A Whole 'World' Of Pain: 'Westworld' Season 2 Promises A Huge Bloodbath
Saddle up for a round in O.K. Corral, because Westworld Season 2 is sticking on its spurs for another trip to the violent delights of HBO's robotic romp.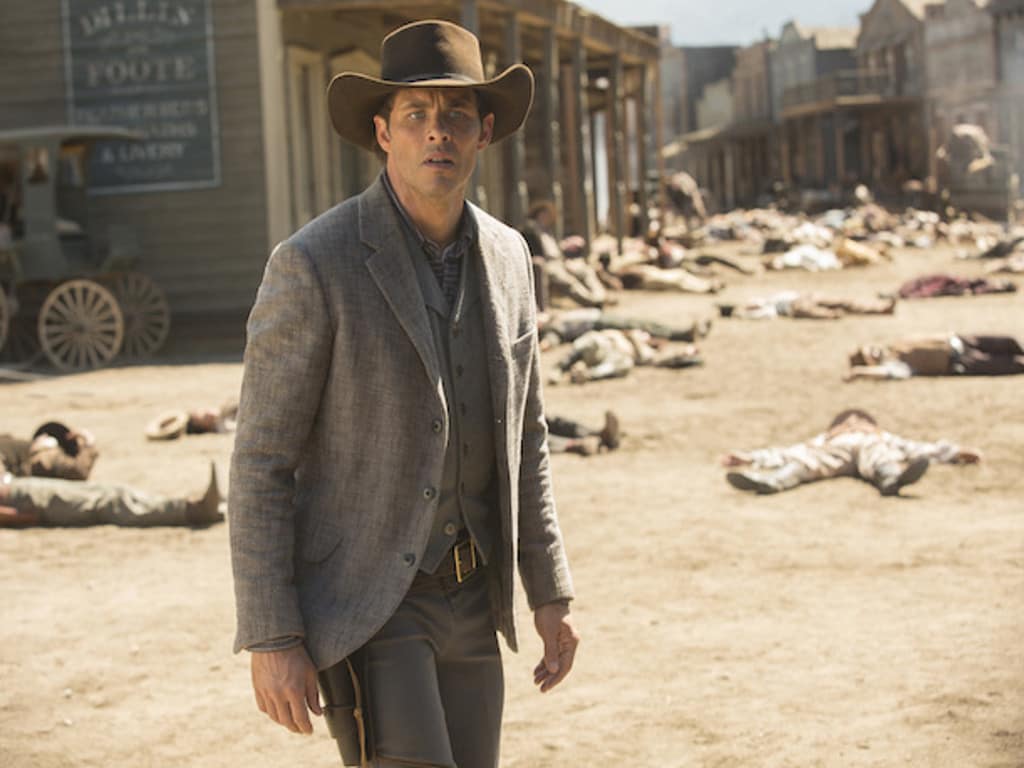 Saddle up for a round in O.K. Corral, because Westworld Season 2 is sticking on its spurs for another trip to the violent delights of HBO's robotic romp. Given the way in which Season 1 rounded off with that spectacular moonlit massacre, it is hard to see how showrunners Jonathan Nolan and Lisa Joy will top year one, but thankfully, it sounds like they will be trying their best.

West Is Best
Speaking to TV Line, the dynamic husband and wife duo revealed that Joy will be making her directorial debut in the fourth episode of Season 2. Nolan teased that his wife has clearly taken the reigns of the show following the macabre ending to #Westworld's premiere season, and it sounds like Lisa won't be skimping on the corn syrup:

"You've made it far more violent and disturbing than we ever intended. It was quite a placid episode, and Lisa has kind of turned it into a bloodbath."
Joy then revealed there will be plenty of action coming our way, and that we should expect all of our favorite characters to have something to do in her episode:
"It's just a terrific script with a terrific cast... it was like somebody handed me a Ferrari and said, 'Try driving it — don't crash.'"
Neither Nolan nor Joy went into much detail about what Episode 4 will contain, but could this feature the scenes we have seen of Dolores and Teddy gunning down guests on horseback? For the time being at least, it looks like the violence will be confined just to Westworld, but how much longer until it spreads to the rest of the parks?
It won't just be a case of endlessly dredging the desert or trying to decipher a maze of clues before the finale. When asked what the biggest difference between the freshman and sophomore years of Westworld will be, Joy said that things are about to get a lot more wild in the wild, wild West:
"Whereas in Season 1 everything was calm and kind of understood that the thing that was awakening in the robots could lead to some sort of outbreak, now the outbreak has happened and we find the park in a very different place."
Having a robot chomp your dick could be the least of the worries for our human parkgoers, given that Season 2 sees the slaves become the masters. Now that the bots have broken their protocol, the shoe is on the other foot for the rich and famous who decided to vacation in Westworld. Season 1 certainly set the scene for a bloody continuation, while Season 2 looks ready to send our mechanical menaces haywire. The first season also ended with the sensational reveal of Shogun World, so Joy's promised bloodbath could be more of a Kill Bill Vol. 1 affair than pistols at dawn.
The usual roster of acting talent will return — still no word on Hopkins — with the show arguably held up by stellar stars like Thandie Newton, Jeffrey Wright, and Evan Rachel Wood. However, newcomers like LOST's Hiroyuki Sanada and Quantum of Solace's Neil Jackson hope to bringing some new blood to the park among the bullets and bots of Season 2.
Check out the trailer for Westworld Season 2