Futurism is powered by Vocal creators. You support
Futurism Staff
by reading, sharing and tipping stories...
more
Futurism is powered by Vocal.
Vocal is a platform that provides storytelling tools and engaged communities for writers, musicians, filmmakers, podcasters, and other creators to get discovered and fund their creativity.
How does Vocal work?
Creators share their stories on Vocal's communities. In return, creators earn money when they are tipped and when their stories are read.
How do I join Vocal?
Vocal welcomes creators of all shapes and sizes. Join for free and start creating.
To learn more about Vocal, visit our resources.
Show less
Authentic 'Star Wars' Costumes for Cosplay
Authentic 'Star Wars' costumes can make you feel like you're in a galaxy far, far away without leaving your favorite comic con.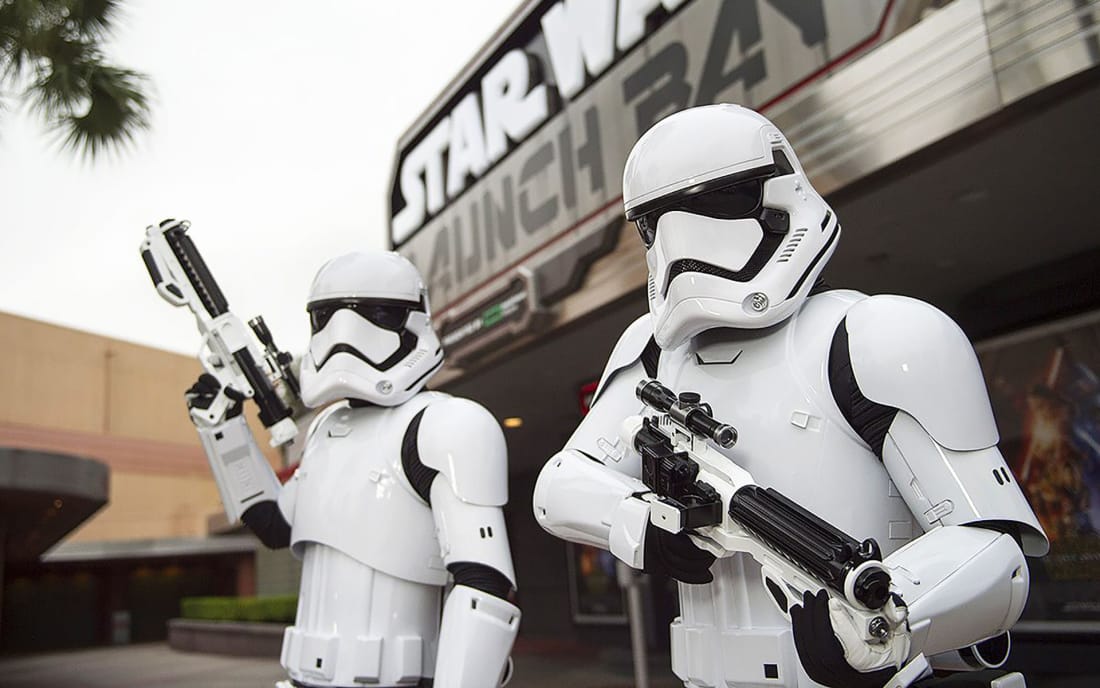 Cosplaying. It's living gloriously in America—and with good reason. From My Little Pony to the Marvel Universe's Black Widow to DC's Suicide Squad, people are coming out in flocks to impersonate their favorite characters. With the expansion of the Star Wars movie anthology, Star Wars cosplay exploded in popularity. You can't go to a comic con without spotting at least one Darth Vader, Han Solo, or Princess Leia.
In addition to all of the hardcore cosplayers with authentic Star Wars costumes for cosplay, you see some real sins against the art. People wear anything—from shower curtains to pots and pans. Then there are the body paint guys. They're the ones that inevitably show up on the internet as examples of terrible costumes in order to show what a good costume looks like in comparison.
Save yourself. Don't be those guys.
Whether you're a long-time pro or still learning cosplay tips for beginners, it's extremely important to wear an authentic Star Wars costume for cosplay. Why? Authentic costumes look about 700 times better than most of the home grown stuff. They're also much more comfortable and reusable. When you get your hands on the real deal, you don't have to put forth the time and effort to figure out how to throw together some semblance of a costume. Lastly, the people who make these costumes are paid to make them. This basically means that they're very motivated to get the thing right. 
An authentic costume crushes a handmade, cheapo costume time and time again. They're better in both detail and quality of material (unless you dump $5,000 to hand-make everything close in quality to a much more affordable costume).
Cosplaying is a terrific pastime, but that doesn't mean you should ease off the accelerator. Be the best you can and select an authentic Star Wars costume for cosplaying.
Darth Vader Costume by Rubie's
Darth Vader. Just hearing the name conjures up a deep-breathing image of majesty and tormented power. Lots of people like to cosplay as Darth Vader, simply because he is an instant classic!
Don't be the guy who shows up wearing some shower curtains and a ski mask.
This Rubie's authentic Star Wars costume for cosplay is perfect for anyone who loves Darth Vader! Wherever you wear this officially licensed Star Wars Darth Vader Supreme Edition adult costume, you'll find that this is everything… And more.
It's strong. This is important, because nothing is more irritating than wearing a shoddy costume that falls apart after you use it. This garment features heavy-duty injection-molded armor pieces that will hold up against all the obstacles you might throw at it!
It's not itchy. Unlike other costumes which—I'm convinced—use old, itchy sweaters inside, this one is smooth. The costume boasts a full latex mask and an oversized helmet with gauntlets and gloves!
You're getting everything you need for a successful con experience with this costume. Everything is included—the ever-famous breathing device, boots, cape, jumpsuit, and so on. All that's required is for you to pull it on. It even has belt boxes!
Chewbacca Costume by Rubie's
Chewbacca costumes are great, because they're so easy to make that many people try to throw things together. What's the difference between gluing some mops to a bodysuit and this costume?
Everything.
This premium, officially licensed, authentic Star Wars: Revenge of the Sith Chewbacca costume is top-of-the-line. It's tough, durable, and authentic. If you're looking to show up as the big furry guy, this is the best way to do it!
The biggest part of the costume is the full fur body suit. It has a variety of sizes—from standard to XL.
Forget irritating masks that you have to jig-a-rig with safety pins. This mask is a full piece, so no confusing adjustments are necessary. Most cosplayers know the irritation of wearing machine-generated costumes; inevitably something will be in the wrong spot. This costume's long fur is completely hand-layered by professionals for an authentic look.
Boba Fett Costume by Rubie's
Two words. Boba. Fett. His very name makes true Mando fans shudder in excitement. His massive popularity is great, but it also means that you see too many awful costumes.
This isn't the kind of costume that clanks and itches before breaking during a single use. This premium, officially licensed Supreme Edition Boba Fett costume gives you everything in one durable, quality package.
This particular authentic Star Wars costume for cosplay includes the jumpsuit with a cape attached, industrial molded armor pieces, a molded ammunition belt, gloves, a collector's edition helmet, and a molded jetpack. It also includes Wookie braids for that extra bit of authentication.
Not only is this costume of great quality, but it also comes in many different sizes—from kiddos to adults. Heck, it even comes in pet sizes so that you can dress up your dog! 
Stormtrooper Costume by Rubie's
We all secretly love the white-clad soldiers of the Sith rule. From their classic scenes in the older Star Wars movies to their fresh appearances in the newer films, they are revered as some of the most iconic characters of all time.
The most compulsive urge is to paper-mache a Stormtrooper costume and buy a cheap helmet somewhere. The finished costume looks horrible, it feels like it'll snap every time you bump up against something, and it's completely vulnerable to water. When you're looking for something a bit more resilient, this premium, authentic Star Wars costume is a terrific buy.
The setup is imported, but not at the loss of quality. It features the Supreme Edition costume—only for the serious Star Wars fan, mind you—a collector's edition Helmet, durable injection and molded armor on the chest, forearms, shoulders, hands, and legs.
What does all this mean? The Supreme Edition Stormtrooper costume is built by fans for fans with all the best materials.
Shadow Trooper Costume by Rubie's
Not too much is known about the elusive Shadow Trooper outside the niche of super Star Wars fans. However, those who are familiar with this type of character know what I mean when I say that this costume is epic. The market for Shadow Trooper costumes isn't too expansive, so it's difficult to find a quality costume without breaking the bank.
This Supreme Edition Shadow Trooper Adult Costume is an element of pride wherever you wear it. The costume comes with a jumpsuit, molded armor pieces, a belt, gloves with gauntlets included, and a helmet. Although it doesn't include boots, black shoes are easy to find in order to complete the costume.
Become one of the elite Shadow Troopers today! Order this package. You will be happy that you did. 
Darth Sidious Costume by Rubie's
Darth Sidious is one of the most hardcore characters in the Star Wars universe. He not only orchestrates Anakin's demise, but he also shoots lightning out of his hands. Enough said. True cosplayers need a costume that is fitting for such a renowned character.
Skip the musty robes courtesy of your local thrift store. Avoid the excessive edition that costs $8,000. For an affordable price, this premium, authentic Star Wars costume for cosplay is the perfect compromise.
The costume includes Darth Sidious' entire iconic look, from his synthetic cloak to the bottom of his boots. It even boasts the scarred Palpatine mask with a hooded robe and cowl stuck to the back. The mask itself is a work of art. This piece, in particular, has been carefully crafted to closely resemble the creepy Sith as accurately as possible.
Not only is Darth Sidious evil, but he is also hand washable. No more awkward runs to the dry cleaner's! If you're a men's jacket size 38-42, this premium costume is perfect for you. Become a Sith Lord today and take advantage of this wonderful offer. 
Rey Costume by LYLAS
Rey is a new character, but she's already a prime target for cosplayers. Lots of folks whip a sash around their chests and wear loose pants to call themselves Rey. This authentic Star Wars costume for cosplay does more. Designed by the LYLAS team and inspired by SWTFW, this ensemble was the most popular Star Wars costume in 2015.
Jedi Robe Costume by Fashion Costumes
Sometimes costumes can be limiting, but that isn't the case for this quality Jedi ensemble. If you want to dress up as Shaak Ti, Obi-Wan, or Anakin, this costume is a solid choice. Its anonymity is its best feature.
The costume itself is cotton, linen, and polyester, so you won't have to worry about itchy or uncomfortable fibers. The package includes the inner tunic, the outer tunic, the tabard, the belt, the pants, and, of course, the robe.
Perhaps what stands out most about this costume is that it can be tailored to you personally. If you want a custom costume for a reasonable deal, this one is a strong option.
Princess Leia Costume by Rubie's
Do you ever feel like you could pull off cinnamon bun hair? You might be Princess Leia!
The authentic Rubie's Women's Star Wars Classic Deluxe Princess Leia Costume is everything that one needs to put together this look. It's 100 percent polyester, is imported, and has Rubie's seal of quality upon its label.
The costume itself includes the iconic hooded dress, a belt, and a wig. Boots are not included.
Jabba the Hut Costume by Cyberteez
If you've ever wanted to look like a gigantic grub kingpin, now's your chance with this officially licensed authentic Star Wars costume for cosplay! Not 800 pounds? Not to worry! The Star Wars Jabba the Hut Deluxe Inflatable Adult Costume is breathable and lightweight. Even better, the costume includes a battery-operated fan to keep you cool and comfortable as you waddle around.
The costume itself is imported and 100 percent nylon. It's hand washable and includes a headpiece, body, and—as I said earlier—a battery-operated fan.
The full costume is 71'' (for those of us who don't like math, that's slightly under six feet). 
Captain Phasma Costume by Rubie's
People came out in droves to see the newest Star Wars film, which featured the one and only Captain Phasma. Captain Phasma was an instant success with cosplayers all over... mostly with atrocious costumes.
This costume, meanwhile, is a comfortable cloth suit, so don't expect hard armor to pinch you as you're walking around. This officially licensed Star Wars Episode VII: The Force Awakens deluxe Captain Phasma costume is 100 percent polyester, imported, and is hand washable.
Although the costume doesn't feature steel, it comes with comfortable foam armor, a two-piece helmet, cape, and belt. It comes in most sizes (from Standard to XL). The blaster, although available, isn't included in this great deal. 
Han Solo Costume by Rubie's
Han Solo. Other than Darth Vader's trademark breathing problem, there are few characters that are as iconic or as well known as Han Solo. From his easy, charismatic smile to the classic look, he's a character that everyone will recognize.
This officially licensed Star Wars item is 100 percent polyester. It must be hand washed with cold water and no bleach. Then you should lay it flat to dry. Why? Because this is one quality costume that deserves to be treated right.
Included in the box are boot tops, a shirt with an attached vest, and pants. The pants and boot tops are connected, and the boot tops should fit over most shoes.