Best Sci-Fi Graphic Novels for Kids
Blast off with monsters, aliens, and worlds beyond in the best science fiction graphic novels for children (and maybe for you, too).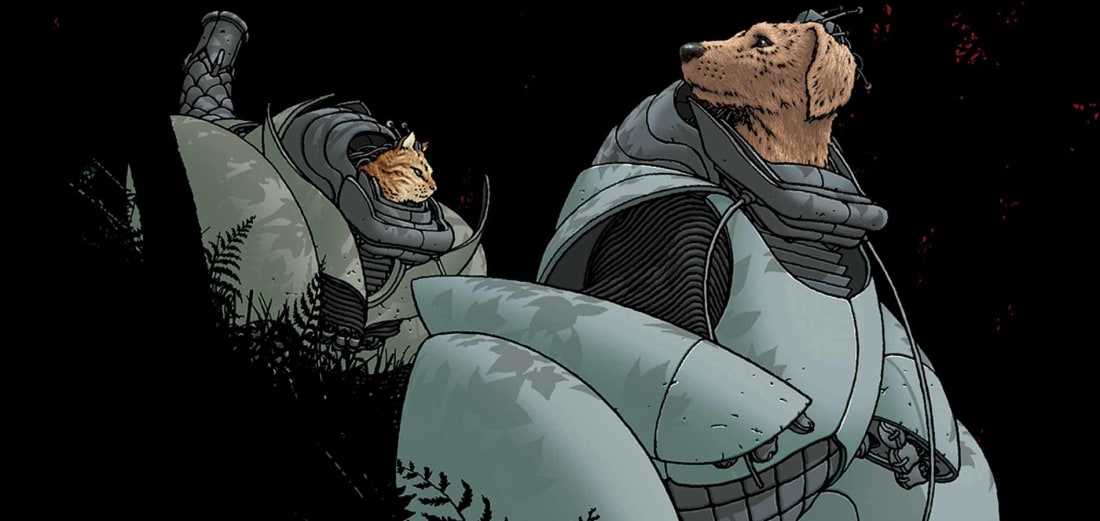 It can be challenging to find science fiction graphic novels for children that aren't too scary or violent, but also don't demean kids or gloss over their interests. While you have to make the call for your own kids, here are six great choices for all the youngsters on your Christmas list. Whether they're preschoolers who can't yet read or high school students who've been adoring fans of the genre for years, you're sure to find something that's just right. (And yes, it's totally ok to devour it from front to back before you wrap it and pass it on to them. I won't tell.)
The Stonekeeper (Amulet #1) 
When a drooling, tentacled beast kidnaps Emily and Navin's mother from the basement of a strange, sinister house they've just inherited, they follow her into a dark, underground world. Here be man-eating demons, giant robots, flying ships, an armored, walking house, a talking fox, a mechanical rabbit, and a magic amulet that just might help them get their mother back. Are you thinking of Stranger Things? Yeah, me too. Kazu Kibuishi is an established star of the graphic novel world and the Amulet series is no exception. This isn't for the youngest kids - it's pretty terrifying and anxiety-producing at times since the kids are left on their own and things get worse and worse for them - but stick with it for slightly older children and they'll be glad they did. The battle between good and evil is at its best in The Stonekeeper, a science fiction graphic novel about being brave and persevering.
Zita the Spacegirl 
If you love strong female characters and Miyazaki-esque monsters, you'll instantly become immersed in the world of Zita the Spacegirl. Neurotic robots! Humanoid chickens! And a spunky little girl who never intended to become an intergalactic heroine. When Zita and her friend Joseph discover a mysterious red button - and Joseph pushes it - a bizarre alien creature abducts him to make him an alien sacrifice. Of course, Zita's got to save him, and the devices creator Ben Hatke employs to get her there are absolutely ingenious. Consider "doorpaste," a toothpaste-like substance that creates portals to another world when smeared on any surface. The art is fanciful, high quality, and purposefully cartoonish - it's a world for children that anyone can get lost in for a few hours.
Astro Boy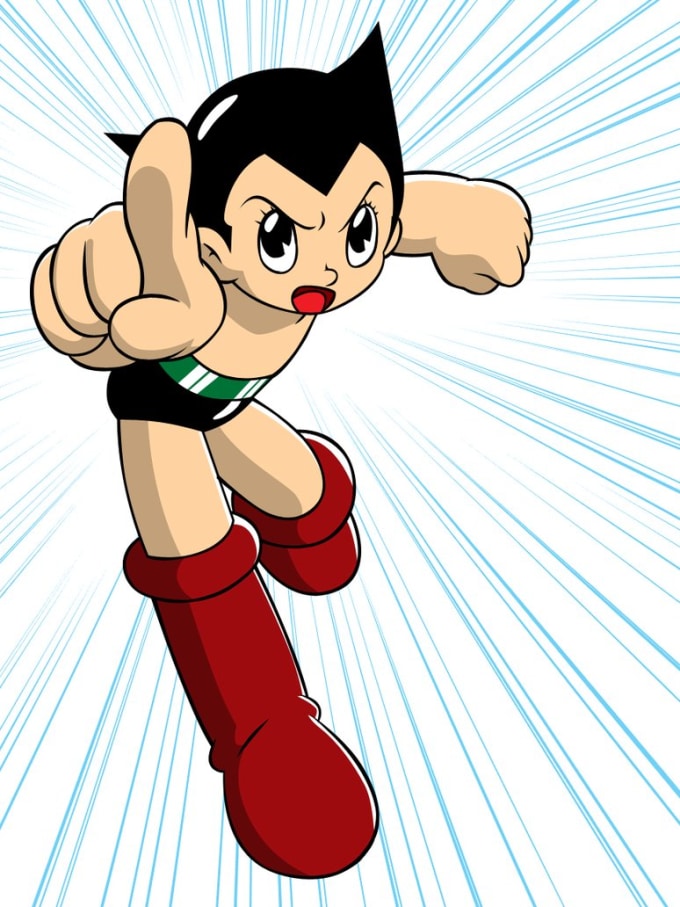 The graphics may look old-school, but that's because it comes from the Walt Disney of Japan, the late Osamu Tezuka, a revered animator and cartoonist (who created an almost unbelievable more than 150,000 pages of comics throughout his life). Astro Boy is powered by jets, bashes up evil robots, and smashes up alien invasions. The third story in the collection, "His Highness Deadcross," tells the story of a robot, President Rag, elected to the highest office in the nation, who struggles to maintain control when the people, led by the fancy villain Deadcross, oppose him. It's an interesting story because the robot president's goal - to achieve cooperation between robots and human beings - is met with suspicion by the masses; the parallels are obvious and still relevant today. That is to say, while Astro Boy always entertains, it also succeeds in presenting moral issues and the problems that face those who attempt to solve them.
WE3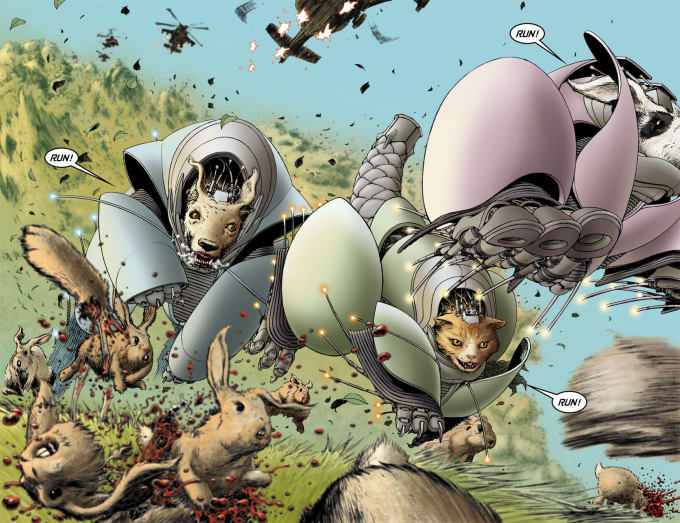 These animals, lost (actually stolen) pets all three, may look sweet and innocent, but experience has taught them to be anything but. When the government weaponizes three house pets, Bandit, Tinker, and Pirate, for lethal combat, the members of WE3 must use their powers to escape the evil scientists, try to return home, and continue to fight the mysterious agency that tries to recapture them. The story is at turns full of wild action scenes and sweet, contemplative moments; it's been called the author, Grant Morrison's most accessible tale. While I do include it on this list for children, it may be more appropriate for middle and high school students than for the very young. Some scenes of graphic violence may be disturbing, but they also have the power to engage and instruct in the proper context. Some call it a cross between Terminator and The Incredible Journey - that's about right.
Little Robot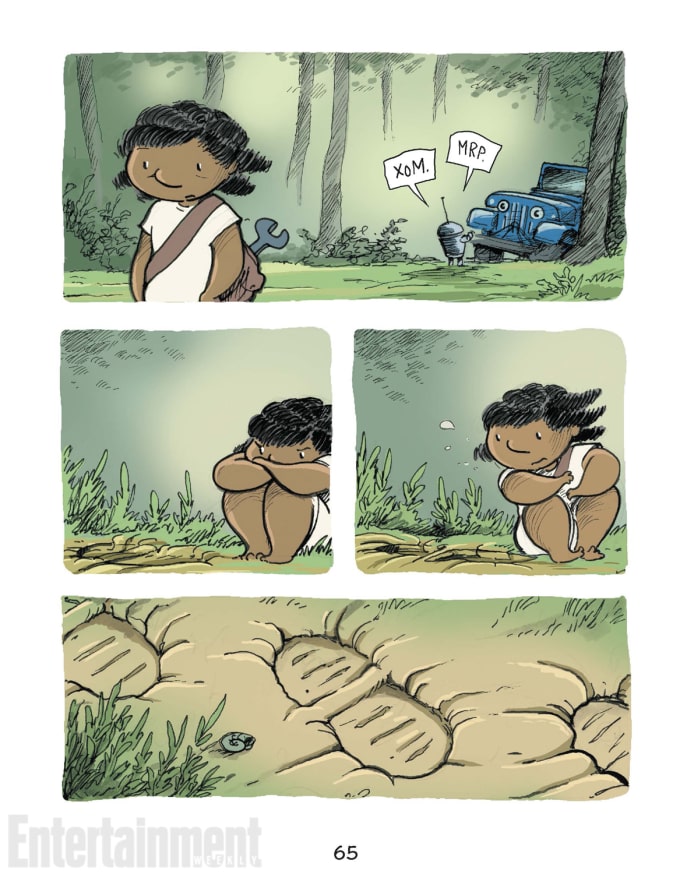 Little Robot is another huge hit from Ben Hatke, New York Times bestselling author of Zita the Spacegirl. While an ethnically diverse five-year-old girl armed only with a wrench doesn't seem the most likely candidate to fight off evil robots, you'd be amazed what our protagonist can accomplish when she puts her mind to it. She's motivated by the desire to protect her new friend, a little robot in danger of being stolen by the aforementioned robot strike team. The robots here are similar to the characters in WALL-E; though their range of facial expressions and sounds is limited, they seem surprisingly human in their ability to communicate a great deal with their few resources. The Kirkus Review calls this "girl power at its best." It's especially appropriate for ages 3-7, and as a combination of a wordless picture book and a graphic novel, it's easy for youngsters to "read" to themselves after you've been through it once or twice. Exceptions to the wordlessness are onomatopoeia like clang, pling, crack, zom or jonk, which take on different meaning throughout the text.
The Secret Science Alliance and the Copycat Crook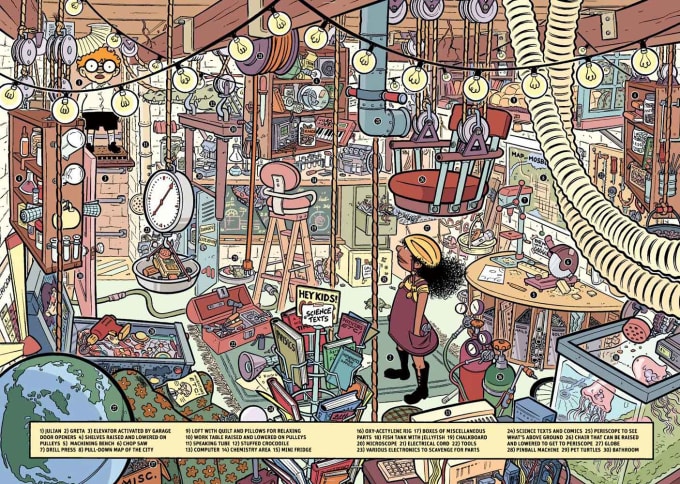 Three middle school scientists form a secret club where they can create to their heart's content - whether it's a Stink-O-Meter, a Kablovsky Copter, or Nightsneak Goggles, the Secret Science Alliance always has something up their sleeves. Then, when the evil scientist Dr. Stringer makes plans to rob a museum, it turns out that the machinations of the inventive trio won't solely be for kicks and giggles. This graphic novel is truly a masterpiece of the genre - engaging, fast-paced, and sympathetic in every way, it's the kind of book that affirms the talents and skills of young geeks everywhere while acknowledging the significant challenges they face. The topic of scientific inquiry is always at the forefront, and the story's characters are investigating ethical dilemmas as they fight their own battles for justice.