Best Space Western Sci-Fi Books
Bandits, cattle grazers, lawless frontiers and aliens, they're only a small part within the best space western sci-fi books.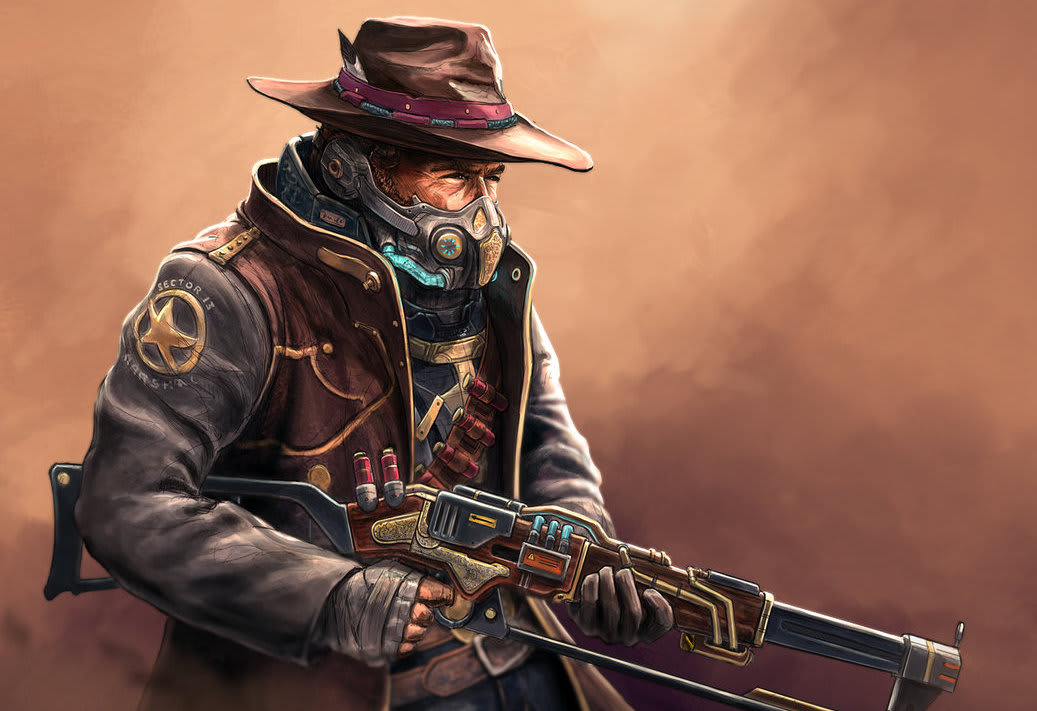 They are often misconstrued among the oscillating worlds of science fiction, but it's about time the best space western sci-fi books get the recognition they deserve. Don't know what a space western sci-fi is? Well, I'm sure you do, you just don't know it yet.
To define the idea of a space western, I give you one of the most iconic and classic TV phrases, "Space: the final frontier." Star Trek: Origins is largely considered one of the most popular forms of the space western genre, because episodes tend to deal with western frontier tropes in space, such as aliens with revolvers, extensive journeys through time, or the use of horses, gunslingers, and other such concepts largely reminiscent from the American west.

Before the tumbleweeds start blowing through, or the highly unlikely odds of an alien warship descending outside your window, I give you the best space western sci-fi books so you can traverse the stars in the likeness of the all-American frontier.
Six-Gun Planet by John Jakes
Zak Randolph tries to live a normal life after revolutionaries have taken over his home world of Missouri, however this would seem unfeasible when a gunslinger steps in to make Zak's life that much more painful.
John Jakes' Six-Gun Planet is one of the best space western sci-fi books, because it blends the genres of war, suspense, and futurism into a beautiful and praiseworthy way.
Earthman's Burden by Paul Anderson and Gordon R. Dickerson
Rather special among these bountiful and best space western sci-fi books, Earthman's Burden is a series of stories packed into one intense ride of epic proportions.
Often goofy and campy, and showcasing a multitude of ironies and satire on the all-too typical form of science fiction books, Earthman's Burden looks at the the possibilities inherent in blending genres without losing terrific storylines.
The Hawkline Monster by Richard Brautigan
As a parody on the familiar western and gothic genres, The Hawkline Monster tells the story of 1901 Oregon, where an Indian girl named Magic Child tries to find a way to kill the beast that lives under Miss Hawkline's yellow house.
Full of witty and imaginative encounters, Brautigan's 1974 classic coming of age story is an all-time legend, and one of the best space western sci-fi books on planet earth.
Through Darkest America by Neal Barrett Jr.
Set 100 years after the events of World War III, Through Darkest America envisions a frontier world that is riddled with malice, corruption, and violence.
Howie Ryder traverses this futuristic frontier in search of the men who had attacked him and his family, wanting nothing more than to exact revenge upon them. This is why it's one of the best space western sci-fi books of all time.
Sirian Summer by John Bowers
While it may not be the most popular title on this list of the best space western sci-fi books, Sirian Summer still contains a multitude of awesome frontier action, mixed with intense futuristic possibilities.
After arriving on Sirius 1 and joining the United Federation Marshal's office, Nick Walker must no sooner investigate the murder of the man whose position he is relinquishing. Racial oppression, a string of missing girls, and human slavery all make Sirian Summer a must read.
The Martian Chronicles by Ray Bradbury
Probably the most interesting and well-written on this entire list, The Martian Chronicles is one of Ray Bradbury's most acclaimed stories, and is simply one of the best space western sci-fi books to date.
As you may have guessed already, The Martian Chronicles is a literal tale of how the human race's continued attempts to colonize Mars leads to a whole long list of debacles, which are better left unsaid until you grab the novel yourself.
Night of the Cooters by Harold Waldrop
Another short story collection, Night of the Cooters is not only supremely interesting and expertly crafted, it's also one of the best space western sci-fi books around.
Harold Waldrop gives us an immense work, packed with space invading aliens, a futuristic Alamo, and to-die-for laughs at every turn. More of a comical take on the everyday science fiction classic, Night of the Cooters is an instant classic.
Zeppelins West by Joe R. Lansdale
This book has so much going on that detailing what it's about gets pretty extensive, so bear with me. A group of hearty characters, known as the Wild West Show, travels to Zeppelin, where they preform a show in front of a Shogun whose corrupted power is used to whittle down the monster Frankenstein.
Buffalo Bill, who's nothing but a head held alive within a jar of pig urine and battery-powered fuel cells, attempts to save the monster with the help of a great many cast of known historical and literary characters, making it one of the best space western sci-fi books in existence.
Girl in Landscape by Jonathan Lethem
Expertly written and redefining of the very genre itself, Girl in Landscape revolves around a young girl, Pella Marsh, and her family as they journey from their home world to the Planet of the Archbuilders in mourning of the loss of Pella's mother.
This newfound place is filled with a strange alien race with even stranger names, like Lonely Dumptruck and Hiding Kneel. Pella, who is both coping and growing in this new environment, goes on adventures that make for one of the best space western sci-fi books.
Time Enough For Love by Robert A. Heinlein
From the famous Future History world of Robert A. Heinlein's, Time Enough for Love plops readers into the arms of Lazarus Long as he journeys through a vast and menacing timescape, filled with its own time travelers, artificial intelligence, and deep space wars.
As one of the best space western sci-fi books around, Time Enough for Love draws out the beauty of black holes and the true nature of space. It gives every fan of the futuristic frontier and space something to appreciate.
The Beast Master by Andre Norton
Meet Hosteem Storm, a Navaho commando whose home on Terrra was left decimated by a radioactive war, sending him through the solar system to a remote frontier satellite called Arzor, where he plans to kill a man he has never met.
Packed with some of the most intense language, and an all-around incredible story, The Beast Master is not only one of the best space western sci-fi books in the galaxy, it also proves why genre literature deserves more respect.