Best 'Star Trek' Clothing
Flaunt your fandom with the best 'Star Trek' clothing the internet has to offer.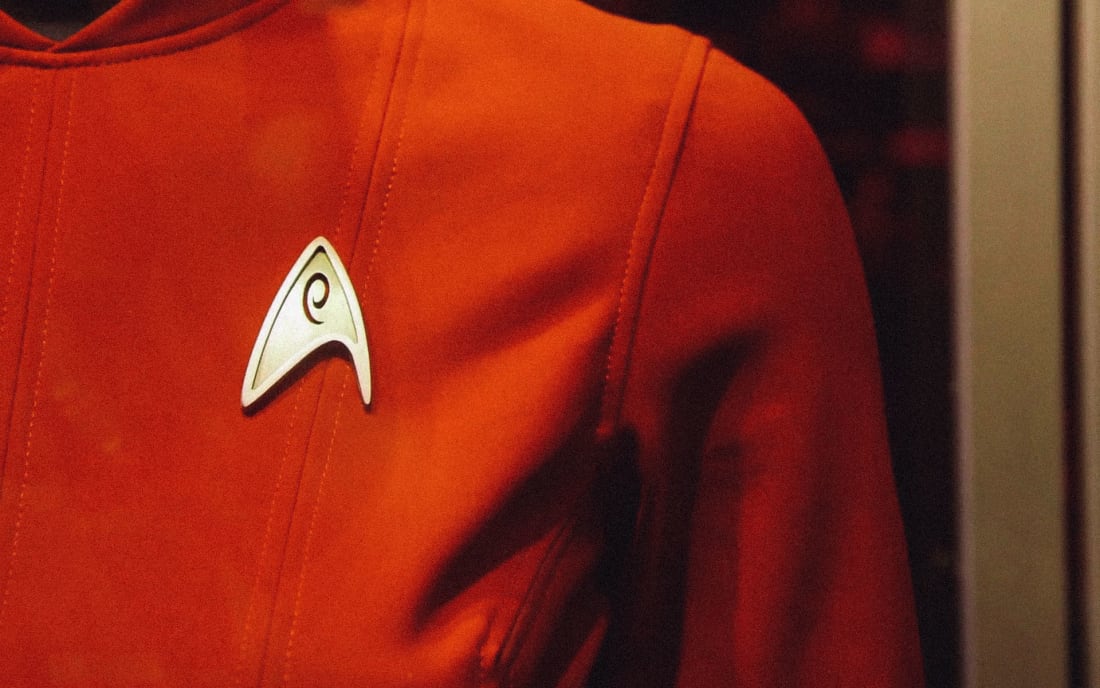 It can be tough to wade through all the merchandise available to find the best Star Trek clothing out there. With a franchise that spans TV shows, films, video games, books, comics, and more, it's no surprise that the amount of options for series-themed clothing is expansive. Not all of it is particularly special; Some merchandise is of poor quality or is basically just cosplay gear. But there are some items that stand out as the best Star Trek clothing and are great options for fans looking for apparel that expresses their love of the franchise.

Star Trek TNG Unisex Track Jacket by ThinkGeek
The first item on this list is pretty straightforward. This jacket is designed to have the same color-blocked look as the TNG crew uniforms and is perfect for keeping you warm in style. The jacket is perfect for layering, making for a perfect reveal of your fandom to the world.

Star Trek Starfleet Academy T Shirt by Popfunk
Have you ever wanted to become a starship captain and explore the galaxy like one of the series' legendary leaders? Well, the first step would be to enroll in Starfleet Academy! Okay, the academy isn't a reality at this point, but you can still represent your dream school with this t-shirt. The print on the front is in the style of real college-branded clothing and it features the name and location of the school as well as the Golden Gate Bridge and Starfleet insignia. There are roman numerals across the bottom of the printed image that represent the year the academy was established, 2161. Some of the best Star Trek clothing allows the fan to feel like they're part of the series' universe, and that's definitely the case for this shirt.

Star Trek TNG Vegan Leather Corset Top by Think Geek
Clothes representing popular shows or movies are often limited to basics like sweaters, t-shirts, and tank tops. That's not the case with Star Trek! There are plenty of interesting options for fashionable fans and this top combines current women's trends with The Next Generation's uniform to create something really special. This might not be recognized by non-fans as a Star Trek shirt, and that can be a good thing since it means it passes as everyday clothing well. But the key uniform elements are there: the color blocking design with black and one of two crew colors. This top is a stylish and feminine way to wear your love for Star Trek.

Star Trek OS Ladies' Sleep Shirt by Think Geek
There aren't a lot of places where a Trekker can dress in a Starfleet uniform, but it's always acceptable to wear one at home. So why not do it in the most comfortable way possible? These sleep shirts look just like the uniforms worn by the crew of the Enterprise in the original series but are much cozier. There are three options with 100 percent cotton tops in Scotty Red, Spock Blue, or Kirk Gold. Choose the set for your preferred department and relax in style while you enjoy a few original series episodes! Not all of the best Star Trek clothing has to leave the house.

Star Trek Final Frontier Dress Shirt by ThinkGeek
For some occasions, a t-shirt or hoodie is just too casual; but there's no reason you can't still wear something Star Trek themed! The most striking part of the shirt is the print. There are soft swirls and patches of interstellar clouds all over the body, sleeves, and collar as well as an abundance of white stars. On the upper back are the words "the final frontier" and another phrase, "to boldly go," is hidden on the button placket when the shirt is done up. The Trek theme isn't too in-your-face for this shirt, but that is a definite plus for this shirt since it makes it more suitable for your work wardrobe. Being able to incorporate your fandom into your business attire is a beautiful thing!
Star Trek TOS Ships Holiday Sweater by ThinkGeek
Ugly Christmas sweaters have become something of a phenomenon in the last decade and now there's a Star Trek themed one for all the Trekkers out there! Perfect for holiday parties (or just cold December days), this sweater is in the style of a traditional knit Christmas sweater but with some key additions. Along with the horizontal checked stripes and various sizes of snowflakes, there are images of the Enterprise and the Starfleet insignia. The white and yellow design wraps around from the front to the back and stands out brightly against the navy blue background. It's a great item to have for yourself and also makes an amazing gift for Star Trek fans!
Star Trek NCC-1701 Jacket by ThinkGeek
September 2016 marked an incredible milestone for Star Trek: 50 years since the very first episode of Star Trek aired on television. To celebrate, there was a huge wave of 50th anniversary merchandise that hit the shelves, including toys, coins, makeup, housewares, and of course, clothing. This jacket is not only among the best anniversary apparel, but is one of the best Star Trek clothing items overall. It has a modern, sporty design and the black insignia and "NCC-1701" printed on the black fabric gives a really sleek vibe. There is also a 50th anniversary logo on a tag along the hem and on the zipper pull. They're small details that feel special but keep the overall look minimalist. What a great way to celebrate a half century!

Star Trek TNG Deanna Troi Swim Shirt by ThinkGeek
When garments ride the boundary between everyday clothing and cosplay gear, they can get a little bit cheesy. Not here, though! While this shirt does closely resemble the top of Deanna Troi's lavender outfit from Seasons 2 and 3 of The Next Generation, its simplicity makes it very wearable. After all, it's a fairly basic long-sleeve shirt with an off-the-shoulder V-neckline. It does have a combadge embroidered by the neckline though, which makes it clear that this is Star Trek apparel. Its functionality also gives it a pass, as it's actually a swim shirt, suitable to wear while surfing or hanging out at the beach to prevent skin from burning in the hot sun. Protect your skin with this stylish top and swim in style dressed like the charming Betazoid counselor from TNG.

Star Trek Official Uniform T-Shirt by Star Trek
Much of the best Star Trek clothing is creative, unique, or even unusual, but sometimes it's the basics that can't be beat. There's no need for complicated styling or intricate detailing with this t-shirt, as its simplicity is what makes it so appealing. The shirt is one solid hue and has the appropriate insignia printed on the chest corresponding with the red, blue, or gold body. Key to the overall look of the shirt is the black neckline which helps to mimic the Enterprise uniform seen in the original series. Part of the beauty of this item is its versatility. Whether you're headed to class, hanging out with friends, or hitting the gym, it's a great option to go with.
There are a multitude of options on the market for Trekkers and finding the best Star Trek clothing can feel like a huge task. Start by checking out the items listed here and go from there! There's something out there for every fan and an item suitable for just about every occasion.