By Royal Decree: Rian Johnson Teases Prince William And Prince Harry Cameos In 'The Last Jedi'
There has been a persistent rumor since last year that Prince William and Prince Harry will cameo in the film as Stormtroopers.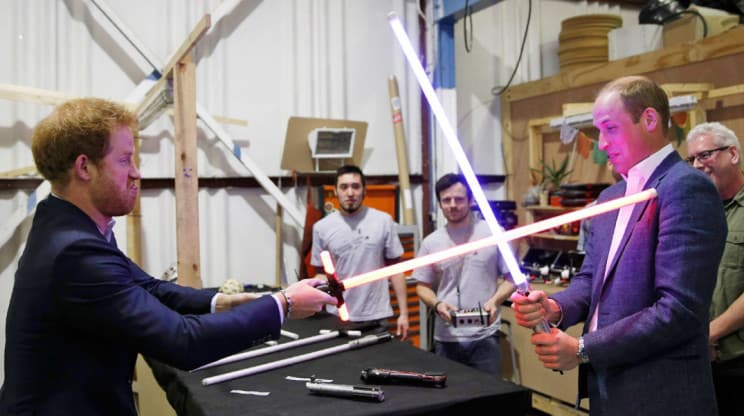 "Help me, Prince Harry, you're my only hope." While we know that #RianJohnson's Star Wars: The Last Jedi will continue with its all-star cast of John Boyega, Daisy Ridley, Adam Driver, and Mark Hamill, the rest of the announcements just keep getting weirder and weirder. We also know that Benicio del Toro and Laura Dern have new parts, but there are some strange rumored additions surfacing online.
First we hear that Take That frontman Gary Barlow has nabbed himself a role, and now it is the British Royal Family's turn. There has been a persistent rumor since last year that Prince William and Prince Harry will cameo in the film as Stormtroopers. When recently quizzed on the theory, Johnson didn't really do much to deny the news.
A Royal Appointment
It all stems from a high-profile visit from Kensington Palace to the set of #TheLastJedi in April 2016. Conspiracy theorists also thought that the brothers managed to find time to suit-up as Stormtroopers and slip in a quick cameo before heading back to Buckingham Palace. Johnson has never actually denied it, so Yahoo! Movies thought they would ask him themselves.
Speaking at #StarWars Celebration, Johnson couldn't help but hold back laughter. Smiling while pretending that he was receiving a transmission, Johnson teased:
"I have no idea what you're talking about. I have no clue. The last voice you heard … I can neither confirm nor deny."
If the heirs to the throne are in Episode VIII, don't expect it to be a part of much significance. You may remember that #SimonPegg got himself a small speaking role as Unkar Plutt in The Force Awakens and #DanielCraig featured as the Stormtrooper who freed Rey.
A Galaxy Of Stars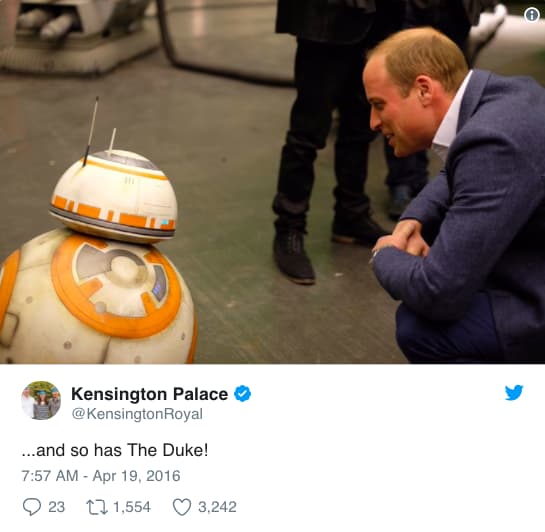 So far, the only confirmed cameo is The Leftovers star Justin Theroux, while we are still no closer to figuring out whether Tom Hardy has landed himself a background role. Elsewhere, it is thought that Rogue One director Gareth Edwards could be hiding in plain sight, especially considering that Johnson appeared as a Death Star gunner in the 2016 film.
It makes sense that directors of the series don't let the addition of big names detract from the overall film. People would be too busy saying, "look there's Queen Elizabeth" to pay attention to the key bits of the film. Ultimately we won't know whether the princes really do feature until either side confirms the news. However, if Harry and Wills do find themselves in The Last Jedi, it is a neat Easter Egg to look forward to.
(Source: Yahoo! Movies)