Futurism is powered by Vocal creators. You support
Tom Chapman
by reading, sharing and tipping stories...
more
Futurism is powered by Vocal.
Vocal is a platform that provides storytelling tools and engaged communities for writers, musicians, filmmakers, podcasters, and other creators to get discovered and fund their creativity.
How does Vocal work?
Creators share their stories on Vocal's communities. In return, creators earn money when they are tipped and when their stories are read.
How do I join Vocal?
Vocal welcomes creators of all shapes and sizes. Join for free and start creating.
To learn more about Vocal, visit our resources.
Show less
In Sequels, No One Can Hear You Scream: That 'Alien: Covenant' Sequel Is Coming Much Sooner Than Expected
Already looking ahead to the horror of the future, the acclaimed director is planning a whole horde of new Alien films, but the next installment could be hatching sooner than we thought.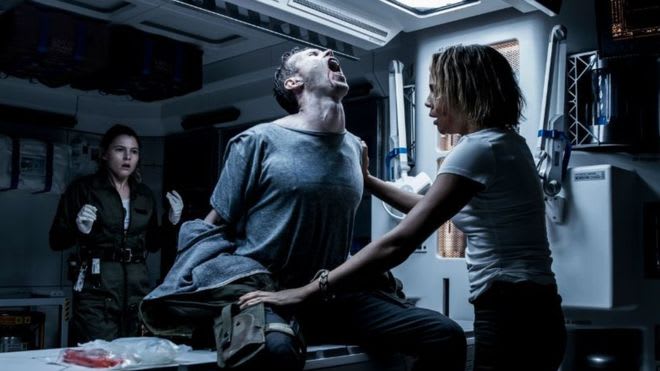 We are just moments away from having Xenomorphs and Neomorphs breathing down the back of our necks, while #RidleyScott's #AlienCovenant is preparing to crash land into cinemas and scare the life out of us once more.
As we tentatively wait for the return of #NoomiRapace and #MichaelFassbender from the last film, Scott is queuing up newcomers #KatherineWaterston and #DannyMcBride for a grisly trip. Already looking ahead to the #horror of the future, the acclaimed director is planning a whole horde of new #Alien films, but the next installment could be hatching sooner than we thought.
Screaming for More
It may have looked like Scott had left his seminal horror behind after 1979's Alien, however, he made a shock return to the series with prequel film Prometheus in 2012. Now, speaking to IGN, Scott confirmed that the third film in his prequel series will start shooting within the next 14 months.:
"We're writing [a sequel] now, as we speak. I'll be filming that within 14 months."
The 79-year-old is hard at work on the script and has promised to churn out as many Alien films as he can before retirement. It makes sense that he is keen to cut down the time between films and crack on with his story arc that will presumably lead into the events of #SigourneyWeaver battling Xenos on the Nostromo. Given the positive early reviews of Covenant, it is almost dead certain that neither Ridley nor Fox is done being a Space Jockey just yet. With the series languishing after Jean-Pierre Jeunet's maligned Alien: Resurrection in 1997, some thought that we would never see more chest bursting and acid bleeding. While Prometheus wasn't quite as well-received as many had hoped, it certainly breathed new life into the tiny mouths of our titular aliens.
Wake Up for Awakening?
There was also the confirmation that the Covenant sequel will not be titled "Awakening" as first though. In a recent interview with Fandango, Scott was asked about the timeline of the films and dropped a spoilerific bombshell:
"It will go 'Prometheus,' 'Awakening,' 'Covenant'.. fairly integral where this colonization ship is on the way…."
However, continuing the IGN interview and further speaking out on Neill Blomkamp's canned ideas for Alien 5, it seems that "Awakening" could've just been a slip of the tongue or a loose working title for this prequel threequel:
"They wanted to do Alien, er, 'Awakening' – Neill Blomkamp. I said fine. I was going to be the producer. If I could have, I would have. Except I do question – why have both [Blomkamp's Alien and Scott's Alien] out there? It seems like shooting your big toe off – it doesn't make sense. But they didn't go forward with it, Fox, so I just kind of kept out of it. I mean, I'd literally ignited this thing to bring it off the ground again, because it was lying there dormant on a shelf. I had this thing to bring it back up – but here we are."
What is important to note is that "Awakening" (or whatever it is called) seems to be placed between his latest two Alien films. With a timeline that is more messed up than the X-Men's, how can Scott squeeze in a prequel to something that is already a prequel? If this is the case, it implies that no one from Covenant needs to return and that everyone is expendable!
To be honest, all we really want to see was a young Ellen Ripley or at least even a sniff of Sigourney Weaver. Blomkamp getting his hands on the intergalactic gore-fest looks increasing unlikely, because from now until the end of time, it looks like Ridley Scott certainly has his claws in the franchise that made him the overlord of outer space.
Check out the terrifying "Let Me Out" clip for Covenant!