Futurism is powered by Vocal creators. You support
Elijah Taylor
by reading, sharing and tipping stories...
more
Futurism is powered by Vocal.
Vocal is a platform that provides storytelling tools and engaged communities for writers, musicians, filmmakers, podcasters, and other creators to get discovered and fund their creativity.
How does Vocal work?
Creators share their stories on Vocal's communities. In return, creators earn money when they are tipped and when their stories are read.
How do I join Vocal?
Vocal welcomes creators of all shapes and sizes. Join for free and start creating.
To learn more about Vocal, visit our resources.
Show less
Leviathan
This is a sample of the story I'm working on.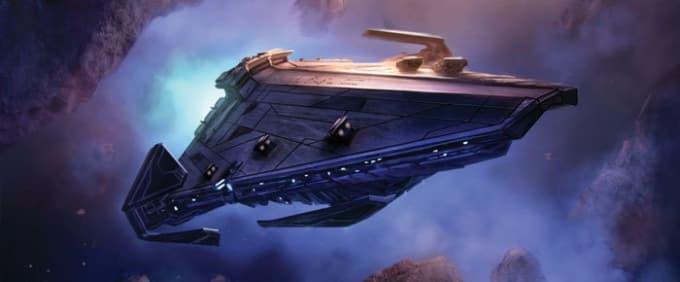 CHAPTER 1: PROLOGUE
THE ECLIPSE
The Leviathan has been boarded by The Eclipse and the crew is being transferred to the brig of The Eclipse.
Alexander Holloway (Leviathan captain) and his second in command Clayton Rudd are being escorted to the brig to join the rest of the Leviathan's crew.
GUARD #1 [HOLDING ALEX]
"There's no use fighting. Your frigate is badly damaged and we have the rest of your crew waiting for you two in the brig."
GUARD #2 [HOLDING CLAYTON]
"Stop antagonizing them. We have orders."
CLAYTON RUDD (QUIETLY)
"You probably should have cuffed us…"
As they are escorting them to the brig, Clayton grabs a thermal detonator from his guard's belt causing his guard to rush him.
During the commotion, Alex elbows his guard in the face and escapes.
Alex is able to slip away from the pursuing guards and uses one of the repurposed escape pods to get aboard his ship.
THE LEVIATHAN
ALEXANDER HOLLOWAY
"Home, sweet home."
Once aboard, he is forced to land on the nearby planet of Aetis.
The landing is not the most pleasant, but fortunately, he is able to land in an area that is out of sight.
ALEX (TO HIMSELF)
"Landing could have been better, could have been worse too. I really could use a drink."
Once outside of his ship Alex takes a look and assesses the damage.
ALEX
"Note to self, find a repairman."
Alex explores the town a bit before he finds a cantina.
ALEX ENTERS THE WEARY KNIGHT.
WEARY KNIGHT CANTINA
Once inside, Alex is overwhelmed by the entertainment.
He decides to get a drink.
BARTENDER (TO ALEX)
"Welcome to the Weary Knight, what can I get you?"
ALEX
"I'm not from around here. What's the best drink you have?"
BARTENDER
"We're known for our Aetis ale. Produced right on this planet so it doesn't lose its kick."
ALEX
"Gimmie a double."
Alex is surprised by how strong the drink is. Upon paying, he realizes he is quite low on funds and grows concerned.
SIMON LAWSON
"I'm surprised you can stomach the stuff. Usually new folk end up not being able to finish it."
ALEX
"How could you tell?"
SIMON
"By the face that you made after you took the first sip."
SIMON (CON'D)
"Simon by the way. Simon Lawson" [Reaches his hand out for a handshake]
ALEX
"Alex Holloway."
The two chat for a few minutes before Simon comments on his necklace.
SIMON
"Where'd you pick that beauty up?"
ALEX
"One smuggling job back in the day. Upon delivery the client was so happy that he gave me a family keepsake."
SIMON
"Sounds like they owed you big."
ALEX
"It was a risky job."
SIMON
"How is the smuggling life?"
ALEX
"Anything but boring. I actually just lost my crew so I'm looking for a new one."
SIMON
"Sounds like fun. I'm game."
ALEX
"You don't even know what it entails."
SIMON
"I'm more of a learn on the job type of guy."
ALEX
"Yeahhhh…speaking of…" [Alex checks his credits]
SIMON
"Credit issues? Fortunately for you, I'm good at cards."
The two go over to the card table where they play a version of blackjack.
They play five rounds well…too well, some might say…
ANGRY PATRON
"You're cheating! There's no doubt!"
SIMON
"Listen. Just because you can't tell when to hold or hit doesn't mean that I'm cheating."
ANGRY PATRON
"Do you know what we do to people who cheat?!" [Draws a knife]
Before he is able to cause any harm, a woman at the table stands up and slams the patron's head against the table
RENEE ROWLAND
"I think it's best if we leave."
ALEX
"Agreed."
ALEX, SIMON, AND RENEE ALL FLEE THE CANTINA.
ALEX, SIMON, AND RENEE RETREAT TO THE LEVIATHAN.
CHAPTER 2: DAUNUS
THE LEVIATHAN
The crew is on board The Leviathan after the cantina incident.
SIMON
"That was a close one. Thanks for helping us out."
RENEE
"No problem. I'm always itching for a good fight."
ALEX
"That's a shame. Our ship could use some fixing."
RENEE
"I've often found that fighting and repairing things go hand in hand. I used to fix up ships for a living."
SIMON
"Used to?"
RENEE
"Finding captains has gotten more difficult. Owning a ship is expensive."
ALEX
"Tell me about it. Speaking of…how much did we manage to make off of cards?"
SIMON
"Just shy of 5,000 credits."
RENEE
"That's 1,665 each rounding down. That would fix the hyperdrive. But that's not our only problem."
SIMON
"What do you mean?"
RENEE
"The repurposed escape pod sticking out of the hull, is gonna be a bit of an issue. Once removed, it is going to leave a gaping hole in the hull. That would cost 15,000 credits to fix. The hyperdrive is around 3,200. And the rest of the ship would be around 1,500. Overall we're looking at just shy of 20,000."
ALEX
"Wow. You really know your stuff."
RENEE
"I told you. I used to do this for a living."
SIMON
"I think it's safe to say that we're kicked out of the cantina."
ALEX
"That'd be an understatement."
RENEE
"We wouldn't need the cantina necessarily."
SIMON
"And why is that?"
She flashes a navigational chart.
RENEE
"Because I have the navigational chart to the planet Daunus."
SIMON
"And that means?"
ALEX
"It's a planet famous for its weapon academy. They specialize in weapons. They would have plenty of credit circulation."
SIMON
"So, all we would need to do is steal a weapons shipment from here."
ALEX
"Exactly."
RENEE
"We'll need to visit a repair shop anyway so I can buy the tools I need to fix the hyperdrive. Otherwise, this chart is nothing more than decor."
SIMON
"I'll go with you to the shop and Alex can circle back to the cantina to steal the weapons shipment."
RENEE
"How do you know the cantina even has a weapons shipment?"
SIMON
"Because I saw the bartender look right at it when that patron pulled his knife. It's backstage where the dancers are."
ALEX
"Smart. Sounds like a plan." [Alex transfers his remaining credits to Renee]
RENEE
"Received."
SIMON AND RENEE LEAVE FOR THE REPAIR SHOP WHILE ALEX CIRCLES BACK TO THE CANTINA.
SIMON AND RENEE ENTER THE REPAIR SHOP.
HOLDEN'S REPAIR SHOP
HOLDEN
"Welcome to my repair shop. How can I help you guys?"
RENEE
"We're looking for repair tools for a frigate-class hyperdrive."
HOLDEN
"That's a bit costly."
RENEE
"How much?"
HOLDEN
"4,200 credits."
RENEE
"Your prices are outrages. I happen to know for a fact that on Tuliv it would run for 3,700 max."
HOLDEN
"Tuliv didn't have three punks causing trouble in their cantina."
SIMON
"Isn't there something you can do? We were defending ourselves."
HOLDEN
"Maybe if you were to purchase other things…we could make a sort of…bundle deal."
RENEE
"Hyperdrive and pod repair supplies."
HOLDEN
"5,000 even."
RENEE
"Deal." [Transfers the credits]
HOLDEN
"Here are your supplies." [Hands them the tools]
SIMON
"And I think it would be best for everyone if you never saw us."
HOLDEN
"Silence is part of the bundle."
SIMON AND RENEE HEAD BACK FOR THE LEVIATHAN.
SIMON AND RENEE ARE AT THE SHIP.
THE LEVIATHAN
RENEE
"Good! Alex isn't back yet."
SIMON
"Why would that be good?"
RENEE
"Because I have a feeling that we're gonna need to jump ship the moment that he grabs the weapons."
SIMON
"Come on. He's experienced, he'll just sneak through the back door when one of the dancers takes a smoke break."
RENEE
"Yeahhhh…I have a feeling it's going to be a little tougher than that."
Renee gets to work on the hyperdrive as her and Simon are talking.
SIMON
"I guess we'll see."
RENEE
"Yeah. Hopefully, your boyfriend doesn't end up getting shot."
SIMON
"I don't know what you're talking about."
RENEE
"I'm not an idiot. I have a knack for observing people. I've seen the way you look at him."
SIMON
"I…"
They are interrupted by shouting outside of the ship.
ALEX (LOUDLY)
"Prime the engines!!!"
Simon runs to the cockpit and starts the startup sequence.
Renee keeps working on the hyperdrive.
RENEE (COMM TO COCKPIT)
"Don't even think about touching that hyperdrive button until I say so. Otherwise we'll be blown up into pieces."
SIMON (COMM TO ENGINES)
"Wouldn't dream of it!"
Alex rushes onboard with the weapons crate.
ALEX
"Get us out of here!"
SIMON (COMM TO ENGINES)
"Can I do that?"
RENEE (COMM TO COCKPIT)
"Yes, but no hyperdrive!"
Simon starts the engines and they roar to life.
The Leviathan takes off and the ramp closes back into the ship.
The crew orbit safely above Aetis.
ALEX
"Thank you. That was a lot more difficult than expected."
SIMON
"What happened?"
ALEX
"I tried to sneak backstage but I was immediately spotted by the bartender. He drew his pistol out and called for security. They chased me down. And let me just say, running with a weapons crate is not easy."
SIMON
"Well, at least you're alive."
ALEX
"Yeah…about that…"
ALEX (CON'D)
"Renee, how are we looking on that hyperdrive?"
RENEE
"A few more minutes."
SIMON
"Why? I mean, I get it. But why the rush?"
ALEX
"Because this is the orbit where my ship was originally attacked less than a standard day ago and I don't know where The Eclipse is now."
SIMON
"Gotcha."
Simon goes and gets the astrocharts from Renee and returns to the cockpit to download them.
SIMON (CON'D)
"Sooo uhh…what happened?"
ALEX
"I don't really want to talk about it right now…"
SIMON
"Come on. It's not like there's anything better to do. Plus, since we're gonna be working together from now on, I'd like to know what happened to your last crew."
ALEX
"Are you saying that I caused this?!" [Alex pins Simon up against the Navigational Chart]
SIMON
"N…no. I just meant that I like to be prepared for situations and see what can be done in the future to prevent such things from happening." [Gulps]
ALEX
"I…I'm sorry." [Removes his arm from Simon's chest]
ALEX (CON'D)
"It's just still fresh."
SIMON
"Hey. Trust me, I get it. Just be thankful you didn't push me too hard against the chart otherwise we wouldn't be having this conversation."
ALEX
"The charts have a safety protocol so even if yo- "
It takes him a few seconds to register that Simon was joking.
ALEX (CON'D)
"Right…sorry. My sense of humor isn't exactly at its peak right now."
Renee comes back from the engines covered in engine grease.
RENEE
"Hyperdrive is fixed!"
SIMON
"I could hug you, but I wouldn't want to ruin my clothes."
RENEE
"Yeah, I should probably wash this off."
Beeping is heard from the console.
AUTOMATED VOICE
"Incoming vessel."
The Eclipse exits hyperspace and their laser cannons turn towards The Leviathan.
Alex just stands in shock unable to move.
SIMON
"I got it."
Simon enters the downloaded coordinates for Daunus and hyperdrives the crew to safety.
<THIS IS AN ORIGINAL STORY THAT I'M WORKING ON, I MAY OR MAY NOT ADD MORE HERE.>