Futurism is powered by Vocal creators. You support
Elijah Taylor
by reading, sharing and tipping stories...
more
Futurism is powered by Vocal.
Vocal is a platform that provides storytelling tools and engaged communities for writers, musicians, filmmakers, podcasters, and other creators to get discovered and fund their creativity.
How does Vocal work?
Creators share their stories on Vocal's communities. In return, creators earn money when they are tipped and when their stories are read.
How do I join Vocal?
Vocal welcomes creators of all shapes and sizes. Join for free and start creating.
To learn more about Vocal, visit our resources.
Show less
Leviathan (Pt. 2)
The Second Section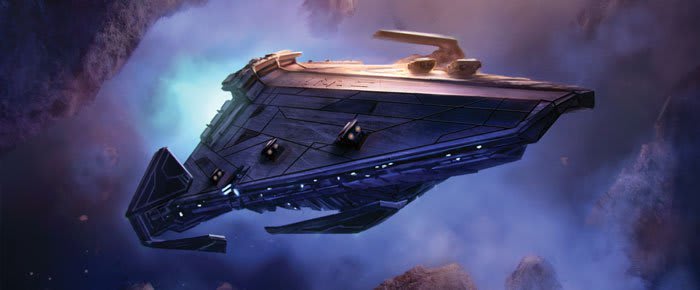 CHAPTER 3: NEW ADDITIONS
THE LEVIATHAN
The Leviathan enters Daunus orbit
ALEX
"Alright let's land."
Alex and Simon take The Leviathan down and land at the nearby academy
ALEX (CON'D)
"Before we head out, I'd like to make sure we are all on the same page."
SIMON
"We're here to sell the weapons crate and earn enough credits to repair the rest of the ship."
ALEX
"That and also, we need to recruit two people so that they can operate the weapons. Otherwise we're basically just a transport vessel."
RENEE
"That shouldn't be too hard because the academy should have students that specialize in weapons training. Meaning if we recruit them, they would already have some simulation time."
SIMON
"The academy wouldn't be too happy having two students leave for work. Right?"
ALEX
"Most likely not for smugglers anyway. Most of the students after their program is over, are able to move to working for privateers."
SIMON
"What would the best approach be?"
RENEE
"I can deal with the weapons crate deal. I'm sure someone at the academy would be happy to take these weapons off our hands."
ALEX
"Let's just get there and see what happens. The weapons crate stays on the ship until we have a for sure deal."
THE CREW LEAVE FOR THE ACADEMY
ALEX, SIMON, AND RENEE ARRIVE AT THE ACADAMY
DAUNUS ACADEMY ENTRANCE
RECEPTIONIST
"Hello, welcome to the academy. Is there anything I can help you with today?"
ALEX
"Yes, we are prospective students and would love to take a tour of the facility before finalizing our decision."
RECEPTIONIST
"Wait one moment please while I ring Kiara for a tour. While I do that, please sign in. There's the sign-in sheet in front of you."
The crew sign in and wait for a bit for the receptionist to make her phone call
RECEPTIONSIST
"I have arranged for a tour guide to guide you through. She will arrive shortly."
SIMON
"Thank you so much!"
RECEPTIONIST
"My pleasure."
After the group wait for a bit, a woman bearing the academy's insignia approaches
KIARA APPROACHES THE DESK
KIARA SWANSON
"You group wanted to take a tour of the academy?"
Alex is stunned as he recognizes that the woman is the captain of the Eclipse
She bears the insignia of The Eclipse on her jacket as well as the academy
SIMON
"Yes. We do."
KIARA
"Alright. Follow me."
Kiara takes the group through the academy
Throughout the whole tour Alex keeps his head down
STARSHIP TRAINING CLASS
KIARA
"And here is my favorite class, starship training. Looks like they're running attack simulations."
Just as she is showing them that class, her comm starts beeping.
KIARA
"If you guys will excuse me. Feel free to sit in on the class. Please do not touch any of the screens though."
KIARA LEAVES
ALEX
"That bitch killed my crew and almost killed me."
SIMON
"Well she obviously didn't recognize you."
ALEX
"That's because she was way too busy to deal with me personally."
RENEE
"Still. I'd rather not run the risk. I think I found our new weapons officers."
Renee points to two students who look identical
The crew watch how they perform the simulation
Every ship that approached theirs was decimated before they even had the chance to attack
Every move that the twins made were in perfect harmony
ALEX
"Recruit them both. I can't afford to be exposed. I saw a class back there that looked like they were training privateers. I'll most likely be able to find one who deals with weapons."
SIMON
"It looks like this is a popular day. All kinds of people are here."
RENEE
"I'll go to recruit. Alex you figure the weapons out, and Simon. Just watch and learn."
ALEX GOES TO THE PRIVATEER CLASS
Renee approaches the two students after their simulation is over
RENEE
"Well done. You both would make amazing Weapon System Officers."
EVELYN WATTS
"Thank you. My name is Evelyn Watts. Feel free to call me Eve. That's my sister Vanessa."
VANESSA WATTS
"And before you say anything, yes we're twins."
RENEE
"Wasn't going to. Nice to meet you both. I'm Renee and that shy guy over there is Simon."
EVELYN
"Are you two joining the academy?"
RENEE
"We're just on a tour. We're just weighing our options."
VANESSA
"I'd much rather be doing something, facing real action. After our training we're scheduled to be aboard The Eclipse."
EVELYN
"Working with Kiara would be an honor. I'm so excited. Have you seen her?"
VANESSA
"She's one of the youngest privateer captains who graduated here. She's a force to be reckoned with."
EVELYN
"Not to mention beautiful."
VANESSA
"Careful. Your emotions are showing."
The two banter back and forth for a while
RENEE (TO SIMON)
"What do you think?"
SIMON
"I think they're perfect."
RENEE
"Agreed."
RENEE (CON'D)
"How would you two like to ditch the academy and join us? We're a relatively new crew and are missing two weapons system officers."
EVELYN
"We can't."
VANESSA
"Speak for yourself. I'm in. Only if I get to see real action."
RENEE
"That's a guarantee. We have a weapons crate that we are trying to sell."
EVELYN
"Technically that's illegal. Since you are unlicensed that would classify as weapons smuggling which is a violation of the law that states all weapon sales and dealings are to be done with only licensed privateers."
VANESSA
"Shut up. Do you really think that finishing school and working aboard The Eclipse is going to be satisfying enough for us?"
EVELYN
"Well…"
VANESSA
"The Eclipse is a dreadnaught class freighter. The ship that they're registered with is called The Leviathan and it's a frigate class. We would have full control over each half of the broadside cannons. On a dreadnaught class ships, we would be lucky if we could operate five cannons."
Evelyn pauses for a moment
RENEE
"How did you know about our ship?"
VANESSA
"Academy tech. When you walked in the security cameras put you in the academy's system database, so any student could look you up. Don't worry, you'll only be in the database as a guest so it'll delete you within a standard galactic day."
SIMON
"Impressive."
RENEE
"To say the least…"
EVELYN
"Alright. I'm in. Lunch is in about thirty so we'll slip away. Vanessa and I can delete us from the academy's database, it'll be like we never attended in the first place."
SIMON
"That'll really piss Kiara off. I love it."
RENEE
"I'm sure Alex would just love that."
SIMON
"Speaking of…"
SIMON, RENEE, EVELYN, AND VANESSA ALL GROUP TOGETHER FOR LUNCH
ALEX IS BLENDING INTO THE PRIVATEER CLASS
PRIVATEER CLASS
PROFESSOR
"A lot of times you will find people wanting to exchange weapons who are not registered with the galactic privateer office. Those dealings are illegal and would classify as smuggling. What would you do in that situation?"
A hand is raised and called upon
STUDENT
"Report to the nearest privateer office and get the ships ID number as well as the captain's description."
PROFESSOR
"Perfect."
Alex gauges the rest of the class, looking for a reaction and spots one hooded fellow smirking
He quickly falls back and chats with the student
ALEX
"Don't agree with her?"
HOODED FELLOW
"Not at all. The privateer portion of the Federation is only in play because the Federation want to control the credit flow of weapons as best they can. In reality, most of the smuggling are spices. When it comes to weapons, I'd sell or buy in a heartbeat. Easy credits."
ALEX
"And if someone did have a weapons crate to sell?"
HOODED FELLOW
"I'd discreetly meet them and do a deal. Most students here only deal with spice but I'm not afraid of the big-ticket items…"
The two talk and come to an agreement
ALEX, SIMON, AND RENEE GROUP TOGETHER AT THE RECEPTION DESK
ACADEMY ENTRANCE
RECEPTIONIST
"Welcome again. Did you guys enjoy your tour?"
ALEX
"We did. We need to take some time to think about it. But we are very interested in attending."
RECEPTIONIST
"If you would like, I could ring Kiara once more. She is The Eclipse captain and would most likely be able to have you do a program where once finished at the academy, you would just work for her."
Alex grips his fist tight in anger
SIMON
"No, we couldn't impose. We really should be going. Thank you."
The group sign out and exit the academy
THE GROUP LEAVES
THE GROUP ASSEMBLE AT THE LEVIATHAN
THE LEVIATHAN
SIMON
"And why exactly are we waiting here?"
ALEX
"Because, I have a deal set up. We just have to wait for him to arrive."
THE HOODED FELLOW ARRIVES WITH EVELYN AND VANESSA
SIMON
"This is too many people at once. I don't trust it."
EVELYN
"Don't worry. Hacker boy over here is going to keep us all out of trouble."
VANESSA
"As soon as the deal is done, he's going to erase us from the database and put us on The Leviathan."
EVELYN
"Not that we don't trust you we just…don't trust you."
SIMON
"I don't think anyone here right now trusts each other."
HOODED FELLOW
"Thirty-five thousand galactic credits for this weapons crate?"
ALEX
"Yes. Not a credit less."
HOODED FELLOW
"Where did you acquire it?"
ALEX
"Aetis."
HOODED FELLOW
"Perfect." [Transfers credits]
ALEX
"Received. Thank you and pleasure doing business with you." [Hands over the weapons crate]
THE HOODED FELLOW LEAVES WITH THE CRATE
EVELYN
"Also, we're gonna need new additions to the crew."
VANESSA
"Fortunately for you, we know exactly where to find them." [Waves the navigational chart to Tuliv]
Renee gets Evelyn and Vanessa acquainted with the ship while Alex and Simon prepare for hyperspace
ALEX (TO CREW)
"We're taking off."
The Leviathan lifts off of and ascends above the clouds then floats above Daunus's orbit
The Leviathan enters hyperspace to the planet Tuliv.