Futurism is powered by Vocal creators. You support
Elijah Taylor
by reading, sharing and tipping stories...
more
Futurism is powered by Vocal.
Vocal is a platform that provides storytelling tools and engaged communities for writers, musicians, filmmakers, podcasters, and other creators to get discovered and fund their creativity.
How does Vocal work?
Creators share their stories on Vocal's communities. In return, creators earn money when they are tipped and when their stories are read.
How do I join Vocal?
Vocal welcomes creators of all shapes and sizes. Join for free and start creating.
To learn more about Vocal, visit our resources.
Show less
Leviathan (Pt. 4—Ending)
The Last Part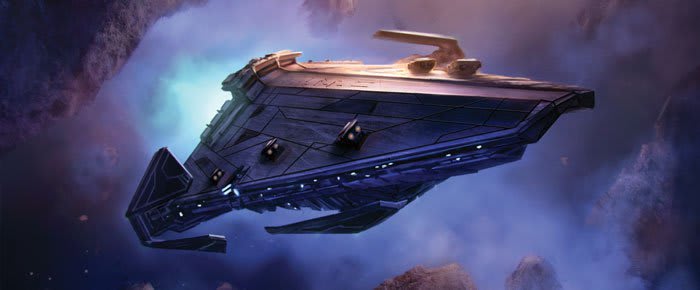 CHAPTER 6: THE ECLIPSE
Upon arrival, The Eclipse doesn't scan the second escape pod doubling up.
HANGER-BAY SEVEN
CLAYTON
"Welcome back home, brother."
ALEX
"You have no right to call me that."
Alex charges for Clayton only to be knocked on the ground by a stun charge.
CLAYTON
"When will you learn? The Federation has better weapons."
Guards grab Alex and drag him to the brig.
While Alex is being dragged, his transponder starts to activate.
When everyone is gone, the second escape pod door opens.
SIMON EXITS THE ESCAPE POD ALONG WITH RENEE AND JUSTIN.
SIMON
"Alright. I have the locations of where the bombs are going."
JUSTIN
"We'll find you cover and advise you."
RENEE
"Remember. You have to plant one in their engines. You'll probably need to disguise yourself. I installed the projector display on your suit. You'll be able to appear invisible but only while moving slowly."
SIMON
"Understood."
The team go forward to execute their plan.
THE ECLIPSE BRIG
ALEX IS TIED UP
CLAYTON
"I really wish that I could say this gives me pleasure. You should have stayed at the academy. Gotten caught, and joined us."
ALEX
"Unlike you, I'm not a traitor."
CLAYTON
"Where has your loyalty gotten you?"
CLAYTON (CON'D)
"Your friends aren't here."
ALEX
"At least I can die without feeling like a traitor."
Clayton punches Alex.
KIARA
"Enough. No need to resort to violence."
ALEX
"Says the woman who slaughtered my crew."
KIARA
"Only the weak ones. The strongest, are rewarded. That could have been you. Third most powerful person on a dreadnaught. Almost all personnel saluting you. Yet you threw it all away for smuggling."
ALEX
"Only to fix my ship which you tore to shreds."
KIARA
"We could have fired on your ship as you descended to Aetis. But I chose to wait. I wanted to see you at your peak. Only when men are at their peak, can you truly take them down."
ALEX
"You're sick."
KIARA
"I survive and lead. That makes me two times stronger than you."
Alex spits at Kiara.
KIARA
"That was a mistake…"
Just before she is able to make another strike.
SIMON BUSTS IN WITH A STUN GUN.
Simon shoots Kiara and then Clayton.
ALEX
"What are you doing here?"
SIMON
"That's one hell of a thank you."
ALEX
"That's not what I meant."
SIMON
"I know. There's no time to explain. Come on. We have to get back to the escape pods."
Simon unties Alex and they sneak their way back to hanger seven.
AUTOMATED ALARM
"Prisoner escape. Prisoner escape. Station wide lookout."
SIMON AND THE REST OF THE BOARDING PARTY MAKE IT TO THE HANGER-BAY.
HANGER-BAY SEVEN
CLAYTON
"Ya know. I might actually get a promotion for this…"
The group is near the escape pod looking at Clayton with his gun aimed at Simon.
The two are at a standoff.
Clayton switches from stun to kill.
CLAYTON (CON'D)
"Are you sure you want to play it this way?"
SIMON
"You bet." [Presses the detonator button]
An explosion is felt throughout the entire ship.
First, the bomb on the bridge goes off, causing the ship to jolt sending Clayton flying.
As Clayton flies, he ends up firing a shot shooting Simon in the stomach.
The second bomb in the weapons bay goes off causing multiple hull breaches which are fixed by the secondary hulls activating.
The last bomb goes off by the engines causing The Eclipse to halt and enter emergency lockdown.
The lights shut off and it takes a few seconds for the red emergency lights to power up.
SIMON (CLUTCHING HIS STOMACH)
"Get to the escape pod."
RENEE AND JUSTIN ENTER ESCAPE POD TWO AND DEPLOY BACK.
ALEX
"Wait. You're hurt."
Alex grabs Simon and puts him in the escape pod.
Alex grabs Simons gun and switches it to kill.
He points the gun at Clayton.
SIMON
"Wait. If you kill him. There's no going back."
ALEX
"I…"
Alex pauses and everything in him is saying to pull the trigger.
Alex drops the gun and runs to the escape pod.
ALEX AND SIMON DEPLOY THE ESCAPE POD BACK.
THE LEVIATHAN
VANESSA
"Okay, that's escape pod two back…still awaiting escape pod one."
ESCAPE POD ONE ARRIVES.
VANESSA (CON'D)
"Perfect timing! Locking the escape pods now."
The group exits the escape pod.
ALEX
"Simon to medical bay now. Justin join me in the cockpit."
JUSTIN
"Yes, sir."
RENEE
"I got Simon."
Renee leads Simon to the medical bay.
RENEE (CON'D)
"Don't worry. I'm sure you're still a hero in his eyes. You blew up a dreadnaught. Who else can say that?"
SIMON
"And I learned that I love explosions."
ALEX (COMM TO CREW)
"We're about to jump to lightspeed. Everyone hang tight."
The Leviathan jumps to lightspeed and arrives at Daunus.
DAUNUS
Alex goes to the med-bay to check in with Simon.
ALEX
"Thank you."
SIMON
"Don't mention it. You would have done the same for me."
ALEX
"Yeah, but still…"
SIMON
"I'll have a scar to remember. And the pleasant memory of blowing half of The Eclipse up."
ALEX
"I guess it's more poetic this way. The damage that The Eclipse sustained isn't enough to destroy it. But it's severely crippled."
SIMON
"Exactly."
The two have a moment.
RENEE
"Also…I should mention that while we were onboard I managed to break into the credit storage and well…" [She displays 45,000 credits.]
RENEE (CON'D)
"Thanks to the generous donation of The Eclipse."
ALEX
"Anyone feel like Daunus ale?"
SIMON
"I do!"
JACK
"I'm parched!"
JUSTIN
"Umm. Hell yeah!"
RENEE
"I'd never turn a drink down."
EVELYN
"Always."
VANESSA
"I'm down!"
The crew go to take The Leviathan in for a landing.
They end up drinking and celebrating and Alex and Simon end up being alone.
SIMON
"You're a really good person."
ALEX
"What do you mean?"
SIMON
"You could have killed Clayton. You didn't."
ALEX
"Just because I didn't take someone's life doesn't make me a good person."
SIMON
"Maybe not, but it makes you a better person. If I were in your shoes, I might have shot him."
ALEX
"But you're not me."
SIMON
"No, I guess I'm not…"
ALEX
"You seem disappointed."
SIMON
"I guess I just don't know who I am anymore. When we first met on this planet, I was different."
ALEX
"Would you rather not have come with me?"
SIMON
"No. I just mean like looking back, in the last couple of weeks. I've changed so much."
ALEX
"I think that's called growth."
SIMON
"I'm glad. I feel like I have a family now."
ALEX
"I do too. And next time something like The Eclipse happens, we'll be well prepared."
SIMON
"We do make a pretty good team."
ALEX
"I'd say so too." [Plants a kiss on Simon's cheek.]
ALEX (CON'D)
"We should get back to the crew. We don't want them to embarrass us."
SIMON
"Yeah…I'll…uhh…be there in a minute."
Simon takes a bit to process the kiss and cracks a smile before joining the rest of the crew.
THE END