Futurism is powered by Vocal creators. You support
SKYLERIZED
by reading, sharing and tipping stories...
more
Futurism is powered by Vocal.
Vocal is a platform that provides storytelling tools and engaged communities for writers, musicians, filmmakers, podcasters, and other creators to get discovered and fund their creativity.
How does Vocal work?
Creators share their stories on Vocal's communities. In return, creators earn money when they are tipped and when their stories are read.
How do I join Vocal?
Vocal welcomes creators of all shapes and sizes. Join for free and start creating.
To learn more about Vocal, visit our resources.
Show less
Life and Production: S3 E8: Citizens on Patrol
What role does faith play in a cop's life?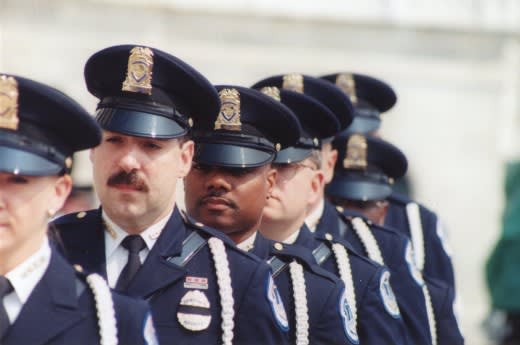 Within the Department
A tweed jacket with leather elbow patches bespoke the speaker at the podium. He was thirty-ish, but he had specks of grey in his beard. His gait was that of an emperor from some far gone time. His bald head shone like wooden floors beneath fluorescent lights. He was tasked with introducing the speaker of the hour, Minister Myleecia Tessmer. As former chaplain for the Wilmington Police Department, Myleecia addressed over 250 officers. This speech marked the fourth time that Myleecia would touch on the necessity for God to be on the Force. But with the Great Transition in place, his role was no longer recognized as separation of State and ideas (including faith) eliminated her position within the department. Yet she continued to petition. The bald, bearded introducer stepped to the microphone as any master of ceremonies would do.
In Uniform
"Good afternoon, ladies and gentlemen. I am Yasin Stamp and am a local author and nephew of the speaker. I am delighted to introduce to some and present to others a true pioneer in the field. Not only is she my auntie, and though she is no longer amongst your ranks, she has a word today. So without further ado, I give you, my aunt, Minister Myleecia Tessmer." Stamp descended from the stage as the minister assumed the speaker's position. She peered over the audience; she surveyed the men and women in uniform as a dictator studies a war-weary populace. She dressed with immaculate splendor. A bone white pantsuit and a royal blue broach complimented her dainty frame. She wore tortoise shell spectacles. She leaned into the microphone after Stamp had left and adjusted it to suit her height.
She paused and then sang, "Jesus my Navigator." The majority of the faces of the officers remained straight. As Minister Myleecia finished her singing, there arose scattered applause.
The Precipice
"Now is the time for a new era. It is a time pregnant with the cause for liberty in these streets. With the advent of the Great Transition, we now have reached the precipice of social unity and justice. While some may argue that the GT has allowed for the freedom for citizens to produce and consume what were once illicit substances, I argue that it was Jesus who secured those rights. And the dramatic decline in murders and other acts of violence can be attributed to our Heavenly Father." The room was silent, stunned, save for a few handclaps. Minister Myleecia drank from a glass of water adjacent to the lectern. She resumed.
Greater
"I say with the most complete faith that God has shielded you few in blue. If the GT hadn't barred me from furthering my career as chaplain in the great city of Wilmington, I would still be serving. At this time, where drug-related violence is nonexistent virtually and police injuries and deaths are on a steep decline, I am here today to inject a word from the Lord." Minister Myleecia then withdrew a tattered Bible from an attaché case. She began to read. After a few passages, she returned to her lecture.
"I say now these words resonate with the Spirit and commune with the greater good." The sea of faces looked stern. The listeners took in the message and anticipated the question and answer period. A lieutenant by the name of Roscoe Kentley seized the opportunity to query the minister.
Isn't that God?
"Good afternoon, minister. I see how it may be odd for you to address as your position with the Force has been eliminated. Wrongly, I would say. I'm a believer in Jesus. He is my navigator, as you sang so beautifully. But I must say, I support the GT, and as an officer of the law, seeks to uphold and defend it. What is your opinion of officers like myself who possess faith yet advocate for the law of the land?"
Minister Myleecia paced for a beat. She clasped her hands together. She took another sip of water. Her eyes trained directly on Lieutenant Kentley. "I've asked God that very same question. I see that the murder rate of the city has plummeted. The lawlessness that plagued Wilmington is a total thing of the past. But isn't that God? I mean, he has inspired all of you to protect and to serve the citizens who inhabit this place. I love that like I love the Lord. And it is because of that love that I continue to fight for my job back. I know that it is my duty to offer myself as a vessel for all of you to experience Christ." A petite captain by the name of Justina Vargas received the microphone from a robot.
An Affront
"Good afternoon, Minister Myleecia. It's only right that I address this. While you are a messenger for faith, what do you have to say to the nonbelievers like myself who are proponents of the GT? What regard do you have for a proper society where all religious expressions are private?" The minister walked to the center of the stage.
"What I have is nothing for you. But my Father in Heaven has a place reserved with your name at His table. What the GT represents is an affront to justice. It tears down the walls erected to keep God closer to us. Religion is one thing but Christianity, that cannot be private. It must be open. We as believers, must be outspoken. While I may never hold the title as Wilmington Police Department chaplain, I will continue the fight. My sole obligation is to lift up the banner declaring that 'The Lord is my shepherd and I shall not want!'"
The Notion
Lieutenant Kentley applauded vigorously. But the rest of the room sat as if molded into their chairs. Minister Myleecia walked briskly from off the stage. While she held the notion that her message got through to the right ones, it most certainly held no sway in causing the reversion to the time before the Great Transition.