Futurism is powered by Vocal creators. You support
Futurism Staff
by reading, sharing and tipping stories...
more
Futurism is powered by Vocal.
Vocal is a platform that provides storytelling tools and engaged communities for writers, musicians, filmmakers, podcasters, and other creators to get discovered and fund their creativity.
How does Vocal work?
Creators share their stories on Vocal's communities. In return, creators earn money when they are tipped and when their stories are read.
How do I join Vocal?
Vocal welcomes creators of all shapes and sizes. Join for free and start creating.
To learn more about Vocal, visit our resources.
Show less
Making Battlestar Galactica
Glen Larson and John Dykstra drew inspiration from the sci-fi genre without being too like their competitors when making Battlestar Galactica.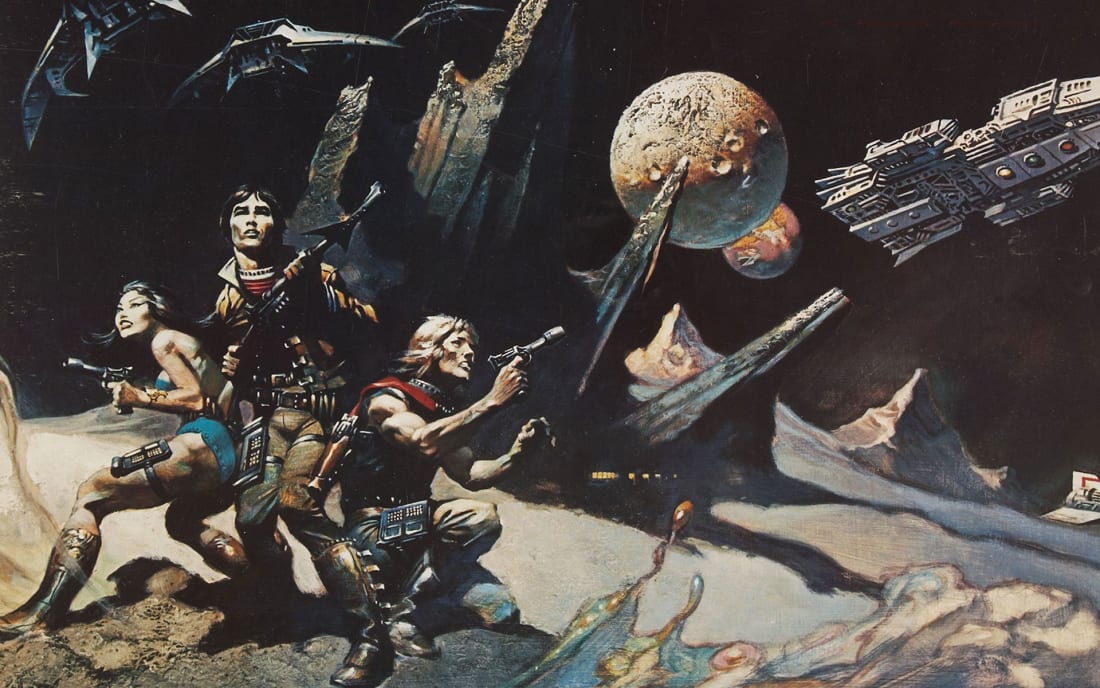 Battlestar Galactica was one of the most expensive series ever created for television in its time. Its price tag averaged nearly a million dollars per hour for the episodes seen in fall of 78. The usual fees for a big budget series were compounded by an inspired move from creator/writer/executive producer Glen Larson. In signing John Dykstra, multiple Academy Award-winning special effects supervisor for Star Wars, Larson hired a formidable talent. Dykstra created the dazzling array of effects that highlight this otherwise pedestrian program, making Battlestar Galactica the hottest new series of its time.
The First of Its Kind
"Certainly nothing like that has ever been attempted before in television," Larson said. "We tried to get the best people in the business to create our images, the most creative minds in the field, including Dykstra and a bunch of other people who've been involved in everything from 2001 and Silent Running to Star Wars." This "bunch" included Dykstra's production team at Industrial Light and Magic (the special effects unit assembled for Star Wars), which was kept more or less intact for Galactica.
"Initially, I didn't want to do episodic TV," Dykstra commented, "but the challenge of the shows I'll be working on was to do something really good for television." Although he left Galactica after seven episodes, Dykstra had created a "library" of special effects footage that could be endlessly rearranged. "I'm a little burnt out on this now," he continued, "but rather than simply walk away from it, I set up the 3,000 individual elements that we shot of individual ships moving in individual directions so they can be put together in different combinations—as long as the scripts are out in time to do anything."
Producer Larson planned to take the effects work even further. "We're not looking to do a good pilot and just cannibalize it forever," he said. "We've taken over a building in which we plan to build the most advanced special effects studio in the world. There we'll create new effects to keep that aspect of the show as fresh as the rest."
The Dangers of Prime Time Television
Both Larson and Dykstra were aware of the dangers of trying to create anything new in prime time television. Regardless of the show's visual imagery, the series survived on the quality of its characters and stories. Galactica recalled a number of TV shows and feature films and thus became very much in the mainstream of television drama.
An old hand at adapting popular film subjects for television, Larson produced such series as Alias Smith and Jones (its original episodes reminding one of Butch Cassidy and the Sundance Kid), Switch (The Sting), McCloud (Coogan's Bluff), and It Takes a Thief (from the film of the same name). There were similarities between making Battlestar Galactica and Star Wars beyond the visuals, among them the use of costume-drama, dialogue, props, and the central characters, who clearly parallel Luke Skywalker, Han Solo, and even R2-D2. Star Wars, of course, was equally guilty of "adapting" images and ideas from a score of films, including Buck Rogers and Flash Gordon, Japanese Samurai films, The Time Machine, The Creature from the Black Lagoon, and The Dam Busters.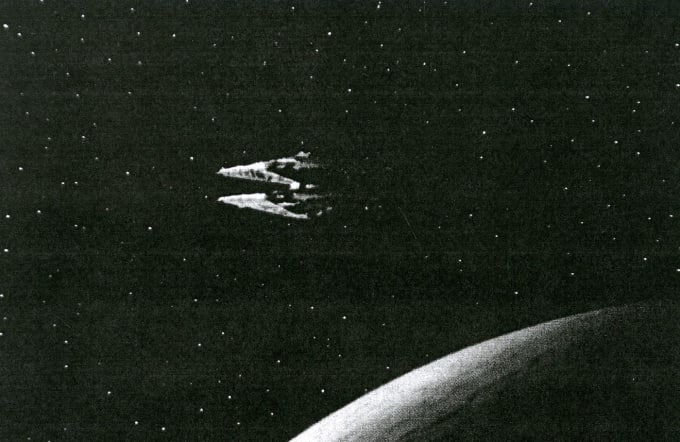 Drawing Comparisons
As can be expected, Larson was hoping to attract the fanatical Trekkies, who religiously follow the oft-repeated Star Trek episodes. Larson was also hoping to attract them but not counting on them for, despite a mass mail campaign to save Star Trek from cancellation by NBC, the Trekkies didn't constitute a large enough audience to keep it on the air.
"Galactica is an all-time challenger," Larson figures, "because the kids were naturally going to compare us with everything from Star Trek to Star Wars. Then there was the dyed-in-the-wool science fiction fans. We aren't going to do enough in that area to please them, either. We didn't want to limit ourselves, because that would result in instant oblivion. Although the television version of Logan's Run came on television in the wake of Star Wars, and at the same time as Close Encounters, the excitement of the films didn't do it any good. The concept for Battlestar Galactica was wide open. We could have gone in any number of directions with it, adapting it as we see fit. But regardless, a lot was riding on Battlestar Galactica. With our budget and talent, if we had gone under we would of set the TV sci-fi field back a long way."
The elements that make up Galactica were not merely drawn from mainstream science fiction. One observes bits and pieces of everything from Davy Crockett and Prince Valiant to The Bridges at Toko-Ri, War of the Worlds, even Mod Squad. The dialogue is fairly reeking of supercilious self-importance, but Dirk Benedict, playing the Han Solo-ish Lt. Starbuck, had the talent to harpoon the most leaden scenes. "You certainly have a way of cutting through the felcagarb," he quips to the "sociolater" with a heart of gold after he rescues her from some fellow passengers in the pilot episode. One almost expected her to ask him, as he drew her to a dark spot for some pre-action romance, "Will you still respect me in the next solar system?"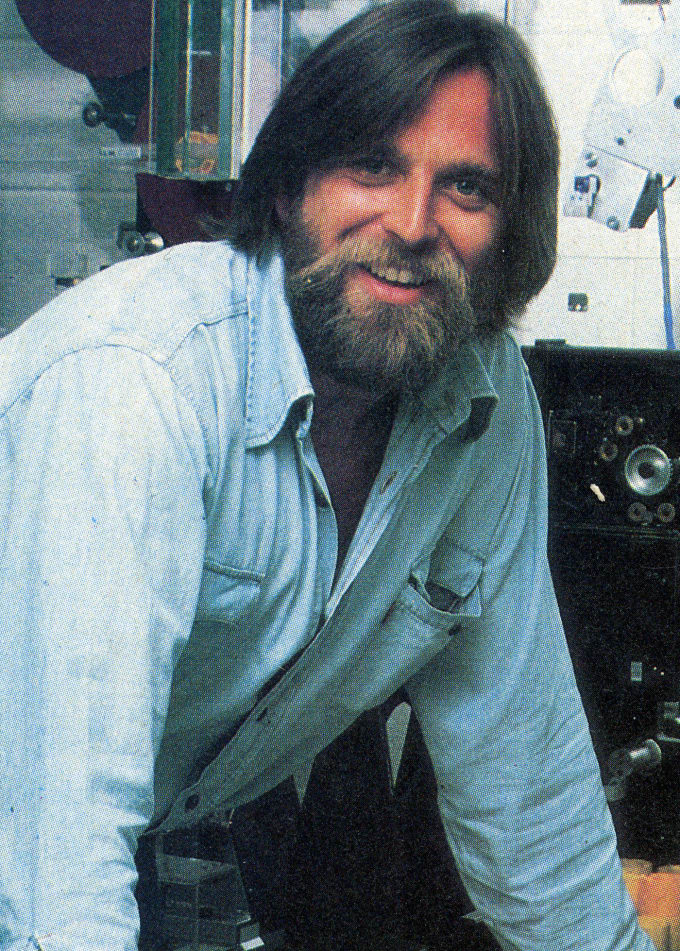 Dykstra and Larson
Having experienced a great deal of creative freedom on Star Wars, Dykstra must have felt more than a bit confined at times while making Battlestar Galactica. Even with the position of line producer, an added inducement to his regular tasks as director of special effects, he still came up against the bottom-line decisions of the executive producer. "It's Glen Larson's show, his story," Dykstra conceded. "I did whatever I could whenever I could to support him when we agreed—and argued with him when we disagreed. He wrote it. He supervised the editing. He was there for the dubbing. I was there as much as could be to say, 'Oh, this is really terrible' or 'That's good,' and any time I came across anything that smacked of Star Wars I tried to get rid of it. But some of the things are just part of the genre, and there's no way to get rid of them. Once they were in the film I just said, 'Well, screw it.' That's not really a rip-off from Star Wars, it's really just part of the same genre, and it's important to the show for it to be there."
The areas of Galactica where Dykstra's hand was most evident are those where he was left relatively free to pursue his own personal tastes and visions. The remarkable flying sequences fulfill the promise of Star Wars's "dogfights." Where the starfighters seemed confined to very strict maneuvers in the film, they appear more realistic here, able to dip, glide, and turn in exceptionally fluid flight.
From TV to Film
Although it was produced for US television, Battlestar Galactica was edited down to two hours and released as a feature film in Europe and Canada. While visiting Universal Studios (production and distribution company for the series), I was able to first see the film by invitation of the Mattel Toy Company, which was merchandising a line of toys and model kits based on the series. Having spoken to Dykstra and Larson before seeing the film, I was aware of its shortcomings. Made for television, it's unfair to judge the visuals on a big screen, but the quality of Dykstra's work is evident throughout. Those faults he mentioned in our conversation were barely noticeable.
"I'm very dissatisfied with the quality for theatrical release," Dykstra said. "It's bothersome. The scope of a show with this quantity of special effects material is not made for a forty-foot screen format. There's a myriad of things that are sophistications for television. They make it work on tv but are wrong for a feature release."
Battlestar Galactica Classic
In the deepest reaches of space, the fight to save all human life from extinction has begun. Battlestar Galactica, created by Glen Larson, starred Lorne Greene, Richard Hatch, and Dirk Benedict, and aired from 1978 to 1979.