Futurism is powered by Vocal creators. You support
Futurism Staff
by reading, sharing and tipping stories...
more
Futurism is powered by Vocal.
Vocal is a platform that provides storytelling tools and engaged communities for writers, musicians, filmmakers, podcasters, and other creators to get discovered and fund their creativity.
How does Vocal work?
Creators share their stories on Vocal's communities. In return, creators earn money when they are tipped and when their stories are read.
How do I join Vocal?
Vocal welcomes creators of all shapes and sizes. Join for free and start creating.
To learn more about Vocal, visit our resources.
Show less
Mark Hamill Interview With Maria Shriver
Mark Hamill 1983 interview with Maria Shriver reveals the intense affection he had for the film that defined him.
In this revealing Mark Hamill interview, Maria Shriver inquires if the Star Wars icon will reappear in the franchise 20 years from then. She was off by more than a decade but it is intriguing to realize that even as early as the 1983 release of The Return of the Jedi, there were plans for this franchise to live long into the future. 
Maria: Mark Hamill at age 30, he's already a millionaire and the leading man in the most successful series of films ever made -the Stars War saga and now the third in the series is about to open; the long awaited Return of the Jedi. It all happens this Wednesday as the Return of the Jedi opens nationwide which will mark the final chapter trilogy concerning characters who existed long, long ago in a galaxy far, far away. If you are one of the dozen or so earthlings who have not seen Star Wars or The Empire Strikes Back suffice to say that there are a simple story with complex imagery. The bad guy fights for control, the good guy fights for survival. But the saga has been more than an elaborate fairytale. Both films are a testimonial to good clean story-telling and state of the art special effects. Behind the camera at the center of this phenomenon is creator George Lucas; easily the most private movie mogul ever. But in front of the camera it's the story of cosmic kid Luke Skywalker played by Mark Hamill. Everybody tells me that Return of the Jedi is your film. Can you tell me something about it?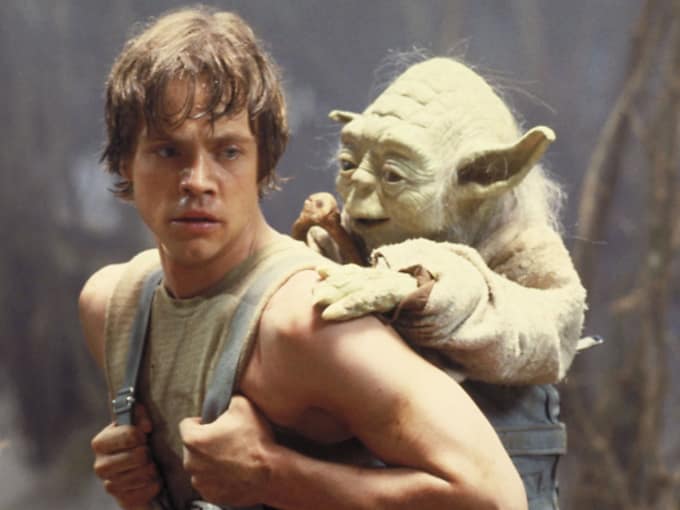 Mark: It's probably the most elaborate punch line because you've had this 6 year set up and this will finally answer all of the questions. It won't be a cliff hanger like Empire Strikes back was.
Maria: Nobody will let me see this film, nobody will tell me one word about it. Why this umbrella of secrecy about this film?
Mark: Don't feel bad Maria. They would have things, they would come in and give me pages, have me memorize them there and shred them.
Maria: Right on the spot.
Mark: Without being released in the administration it was shocking.
Maria: The Return of the Jedi not only wraps up the first trilogy but it looks to be the final film for the principles. Harrison Ford is Hans Solo, Carey Fisher is Princess Leya and of course Mark.
Mark: Its one for everyone except for the two robots, they're the only one that goes through the whole 3 trilogy stories.
Maria: I've heard that you have been hired to come back as Luke Skywalker in the last Star Wars film 18 years from now. Is that true?
Mark: That's kind of like 2004 or something
Maria: You're gonna be back.
Mark: But you see he's been very cagey because its either gonna be on another planet its either gonna be on another planet of existence or not the same character and I can't really tell you why without getting into sensitive material.
Maria: So then this is the last one for you until the year 2004 or around there?
Mark: Well I'd just like to say when you see the ending you will see why it has to be the last on period.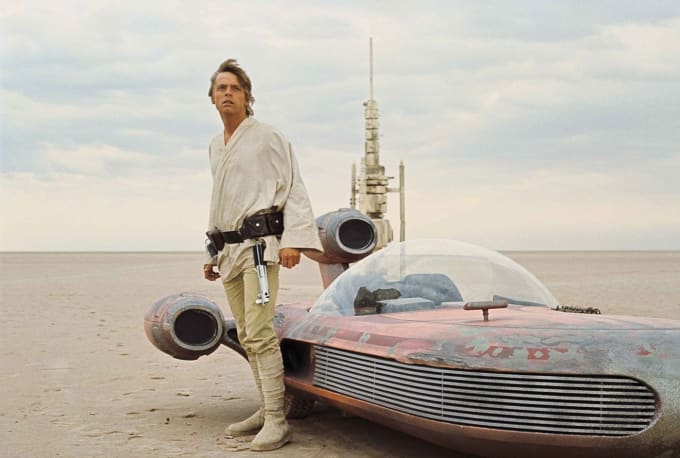 Maria: For the record Mark also exists in this galaxy. For the last few months he, his wife and two children has been travelling around the country as Mark performs in the Broadway touring company of Almadeas. In the play of Almadeas Mark plays the role of a rash young composer named Wolfgang Almadeas Mozart. It requires a lot more of him than dueling swords with Darth Vader. It will not earn him a million bucks but Mark hopes that it will earn him some respect and the chance to play more than just Luke Skywalker.
Mark: I have a feeling that in the back of my mind that maybe after Jedi we won't make any more at all because that will bring the story to a conclusion.
Maria: But exactly what that conclusion is even Mark is confused.
Mark: There were alternate endings fought dialogues, I mean this guy could put together the Bobsy twins go to the seashore. I mean I could be surprised that's kind of exciting.
Maria: You're not sure you know the ending yet.
Mark: I'm pretty sure but maybe I only know what George told me.
Maria: And of course we only know what Mark tells us but it sounds like quite a finale.
The film, The Return of the Jedi went on to close out the most successful franchise in movie history to that point. While interviewer Maria Shriver pointedly brought up that Mark Hamill would return to the franchise decades later, nothing could have prepared her for the reality. The Star Wars franchise was rebooted by the master rebooter J.J. Abrams in 2015 and once again established itself as the most iconic sci-fi movie in film history.