Futurism is powered by Vocal creators. You support
Paul Zuniga
by reading, sharing and tipping stories...
more
Futurism is powered by Vocal.
Vocal is a platform that provides storytelling tools and engaged communities for writers, musicians, filmmakers, podcasters, and other creators to get discovered and fund their creativity.
How does Vocal work?
Creators share their stories on Vocal's communities. In return, creators earn money when they are tipped and when their stories are read.
How do I join Vocal?
Vocal welcomes creators of all shapes and sizes. Join for free and start creating.
To learn more about Vocal, visit our resources.
Show less
Praetorian Guards Will Be Ready To Kick Ass And Take Names In 'Star Wars: The Last Jedi'
Star Wars: The Last Jedi is dishing out some major casting news and image tidbits this week, but the most interesting reveal so far has come straight from the director of the film, Rian Johnson.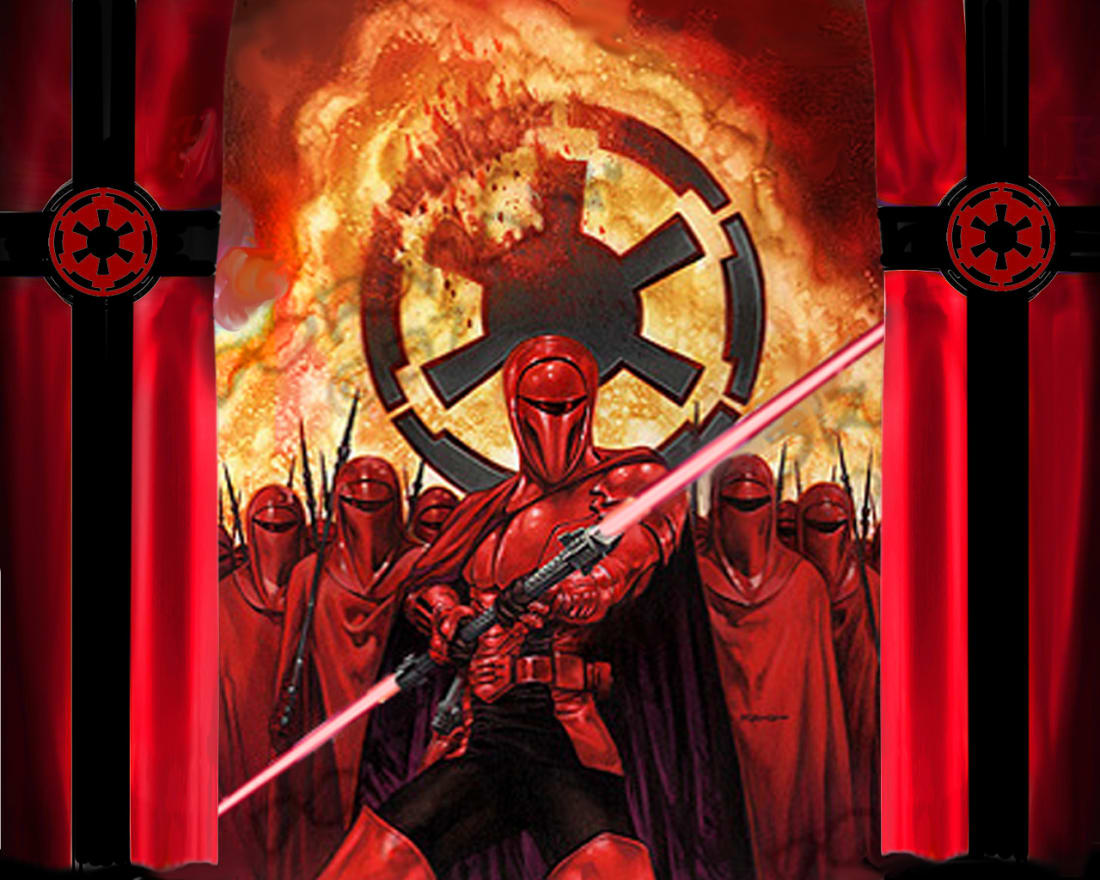 Star Wars: The Last Jedi is dishing out some major casting news and image tidbits this week, but the most interesting reveal so far has come straight from the director of the film, Rian Johnson.
Johnson has spoken with several major publications over these past two weeks, elaborating on a variety of topics relating to #TheLastJedi. He hasn't given away any spoilery bits on the film yet, but Johnson is really aiming at getting people excited for some background characters, who may or may not get featured at some point. The characters in question are the Praetorians.
The Praetorians are clad completely in red armor, brandishing long spears. They can be seen in a fighting stance in the image below. These guards are meant to be protectors of Snoke, so what threat are they protecting him from here?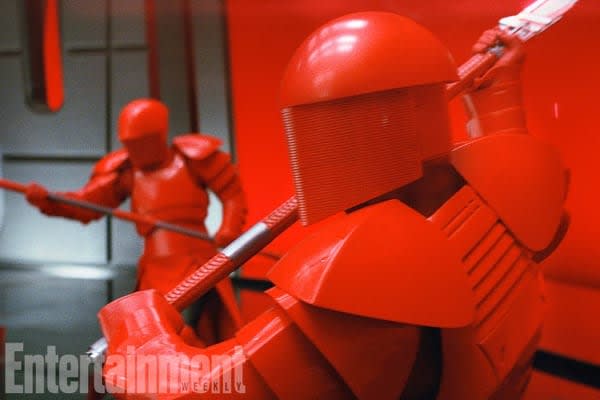 When Johnson sat down with Entertainment Weekly to talk about the new #StarWars film, he began breaking down details on Snoke's bodyguards, describing them as similar to the Imperial guards who walked with the Emperor. Here's what Johnson had to say:
"The Emperor's guards were very formal, and you always got the sense that they could fight, but they didn't. They looked like they were more ceremonial, and you never really saw them in action. They have to seem dangerous. They're his (Snoke) personal guards. So they're essentially his bodyguards. "
Another difference Johnson distinguishes here is that Snoke's guards are essentially combat-ready soldiers, whereas the Emperor's guards were very statuesque and looked virtually useless in a fight. No one has ever seen them in a fight, so the guards don't have many fans or people backing up claims of them being worthy of a fight sequence in the Star Wars universe. The Praetorians on the other hand, have a reputation to live up to. They have to portray these foreboding figures who could take you down at a moment's notice, which is why Johnson gave the costume designer clear instructions on what the Praetorians should look like.
"The Praetorians, my brief to costume designer, Michael Kaplan was that those guys have to be more like samurai. They have to be built to move, and you have to believe that they could step forward and engage if they have to."
Now, appearance alone might not be enough to convey what Johnson intends for the Praetorians, but by placing them in a particular situation where their skills are required, we may see these guards show off their fighting skills. Johnson doesn't explicitly say they'll do anything in particular, but his hints at them being ready to engage gives reason to hope we'll either see them step into combat or prevent someone dangerous from approaching Snoke by physically stopping them. Or who knows, maybe we'll even see the Praetorians go toe-to-toe with Kylo Ren, as another lesson being taught by his master, Snoke?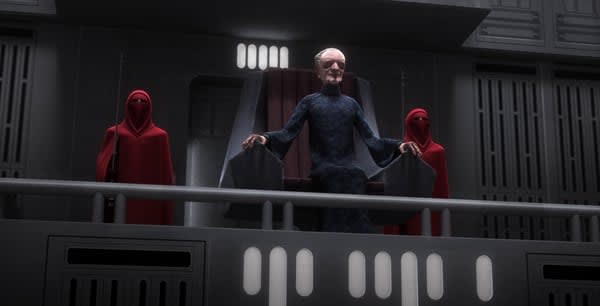 Theories and speculation aside, it'll be interesting to see how the Praetorians play into The Last Jedi. Johnson's vague comments about them don't give us much to go on, but the first image of the Praetorians does depict them in a fighting stance, so we could be in for one hell of an action sequence between the Praetorians and another party, maybe even the Jedi.
Source: Entertainment Weekly