Futurism is powered by Vocal creators. You support
George Gott
by reading, sharing and tipping stories...
more
Futurism is powered by Vocal.
Vocal is a platform that provides storytelling tools and engaged communities for writers, musicians, filmmakers, podcasters, and other creators to get discovered and fund their creativity.
How does Vocal work?
Creators share their stories on Vocal's communities. In return, creators earn money when they are tipped and when their stories are read.
How do I join Vocal?
Vocal welcomes creators of all shapes and sizes. Join for free and start creating.
To learn more about Vocal, visit our resources.
Show less
Reviewing 'Art, Collectibles, Decor and More' OMNI Auction
Own a piece of OMNI's science fiction legacy with this exclusive auction presented by Jerrick and EBTH.
The iconic OMNI magazine has been out of print for over 25 years, yet to this day readers are still intrigued by the science fiction magazine's allure, pioneering expertise, and captivating ideas of futurism.
From the late 1970s to the mid 1990s, science fiction fans and curious minds alike were gifted with the ability to stimulate their minds and hypothesize about the many unknowns of the universe in the monthly installment of OMNI.
Thankfully, this exemplary science fiction magazine was not forgotten with the fall of the print world and the rise of the digital age. In 2014, Jerrick Media CEO Jeremy Frommer relaunched the sci-fi brand as OMNI Reboot; and today, it is OMNI, where sci-fi and fantasy fans alike can contribute to the nostalgic brand of their youth.
Before OMNI's launch in the digital space, all that was left of the brand's legacy was hidden away in a storage locker after Bob Guccione, OMNI's original creator, had lost everything from his once great media empire. As luck may have it, in 2012 CEO Jeremy Frommer of Jerrick Media discovered Guccione's dying science fiction legacy (among his other brands), which consisted of original OMNI slides, imagery, magazines, concept art, and more. 
In 2016, Jerrick teamed up with auction house EBTH (Everything But The House) to share this historic collection with the public for the first time. Today, you not only have the ability to contribute to the science fiction brand, but you can own a piece of OMNI's history in this exclusive auction.
Assortment of OMNI Magazine 1980 Surrealist 35mm Slides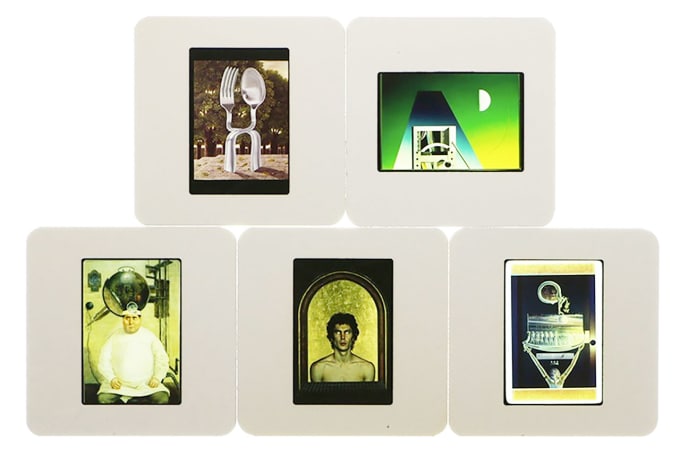 This lot features an assortment of original 35mm slides of images originally prepared for usage in the March, April and August 1980 issues of OMNI magazine. This assortment contains five photographic slides depicting surrealist imagery used to illustrate articles printed at the time.
Pair of OMNI Magazine Page Layout Storyboards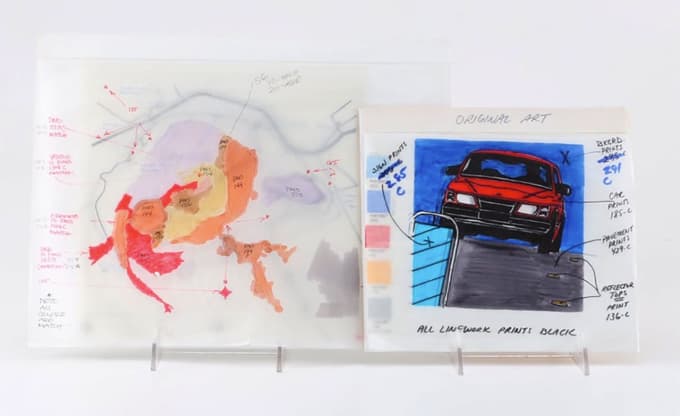 This pair of page layout storyboards features sketches on cardstock of images that would later be produced for OMNI magazine articles. One image is of a car on a roadway, sketched with marker, and the other is a colored map of the Kilauea volcano and its surrounding area. Both sketches have tracing paper on top of the cardstock backing.

H.R. Giger Limited Edition "Demon" Lithograph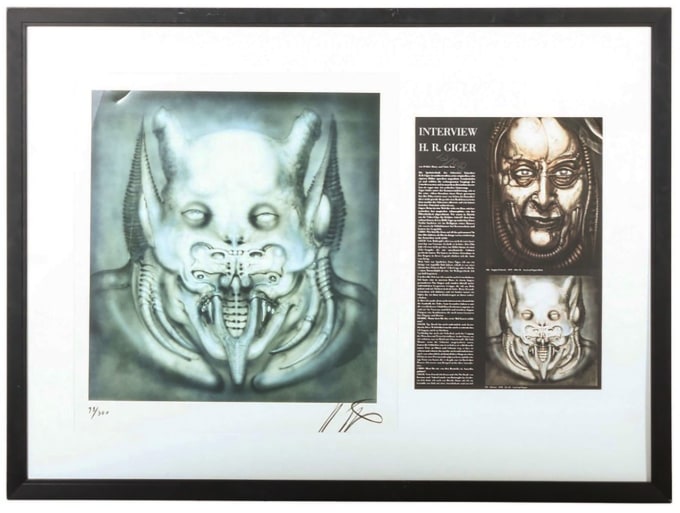 This original limited edition lithograph titled 'Demon' by artist H.R. Giger. It depicts a black and white abstract image of a demonic face; numbered 73/300 in the lower left corner and signed by the artist in the lower right corner. In addition, this piece is matted next to a German printing of a historical magazine interview of H.R. Giger, conducted by musicians Debbie Harry and Chris Stein from the band Blondie. This piece is presented behind glass, beneath a compartmentalized white tone mat, housed in a wood frame with a black tone finish.

Collection of OMNI Magazines From 1978-79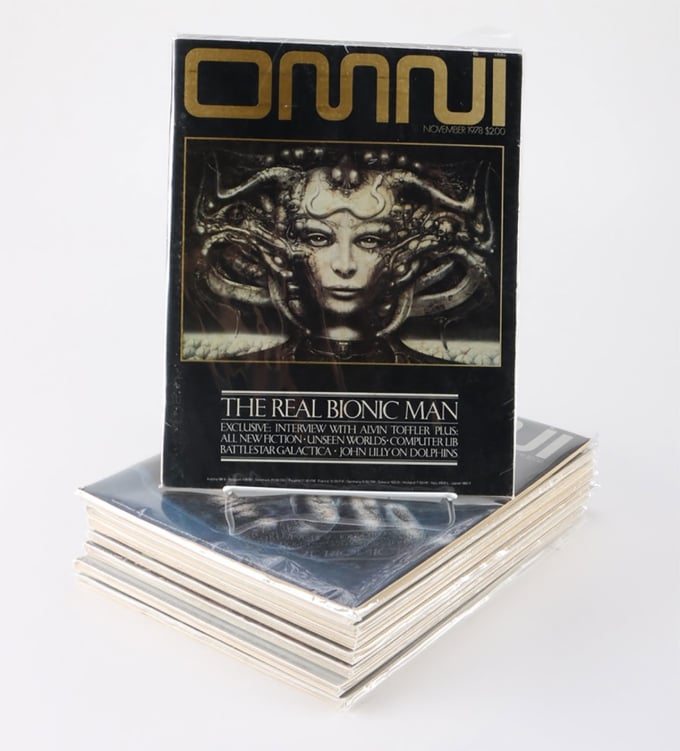 This collection of OMNI magazines from 1978-79 includes issues from November 1978, January 1979, February 1979, March 1979, April 1979, May 1979, June 1979, July 1979, and August 1979. The November 1978 issue features the artwork of famed illustrator H.R. Giger on the cover. Also the January 1979 issue has a feature on Buckminster Fuller and the March 1979 issue has an exclusive interview with legendary science fiction author Arthur C. Clarke. These magazines are protected in plastic sleeves.
Assortment of OMNI Magazine Circa 1979-1980 35mm Slides
This assortment of original 35mm slides feature images originally prepared for usage in the November 1979, February 1980 and March 1980 issues of OMNI magazine. This assortment contains six photographic slides depicting science fiction and fantasy imagery used to illustrate articles printed at the time.
Collection of OMNI Magazine Concept Sketches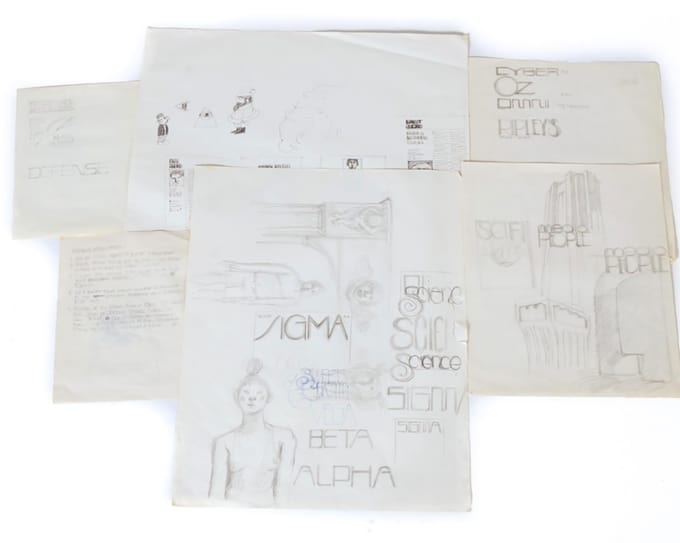 This lot features a collection of concept sketches hand-drawn by OMNI co-founder Bob Guccione and depicts various early ideas for the working title of the magazine that would eventually become OMNI. These sketches were done with pencil and ink.

Collection of Photosynthesis Photography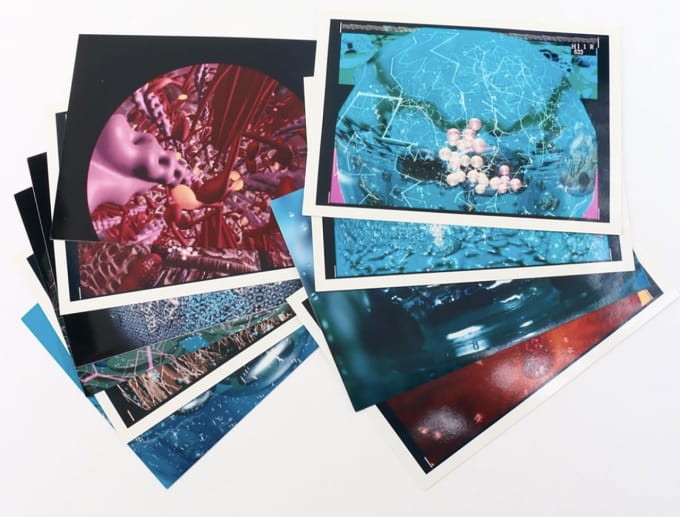 This collection features ten 5×7 color photos of magnified imagery pertaining to the physical process of photosynthesis used for the March 1991 issue. These photos are contained in an envelope which indicates the photos are not originals but are original OMNI library copies.

Pair of Russian Issued OMNI Magazines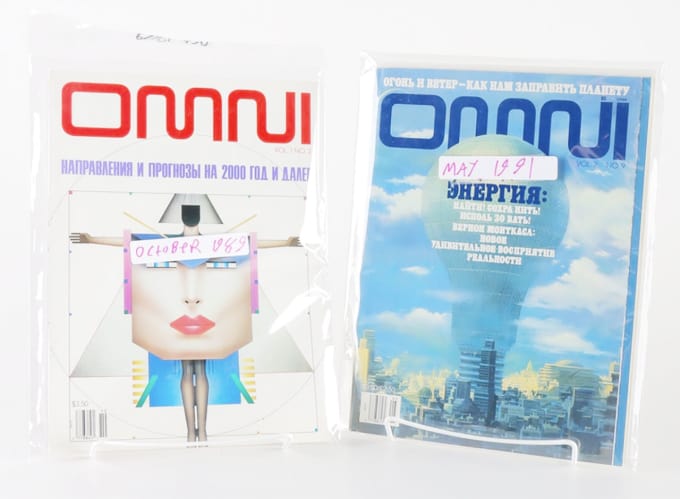 This lot features a set of rare OMNI magazines that were printed in Russia. Both of these magazines are protected in plastic sleeves.
OMNI Magazine Transparent Preproduction Photography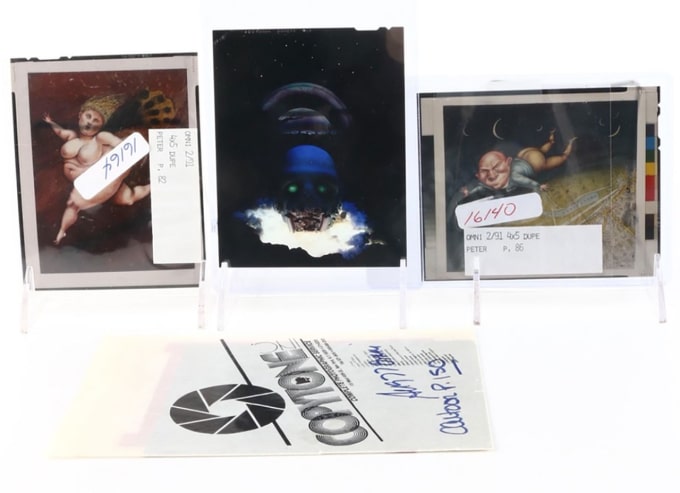 This lot includes an assortment of transparently developed photographs used in issues of OMNI magazine printed in 1977 and 1991. This assortment contains four photographs depicting surrealist imagery and a one panel comic.

OMNI Cover Proof Layout Page with Corresponding Magazine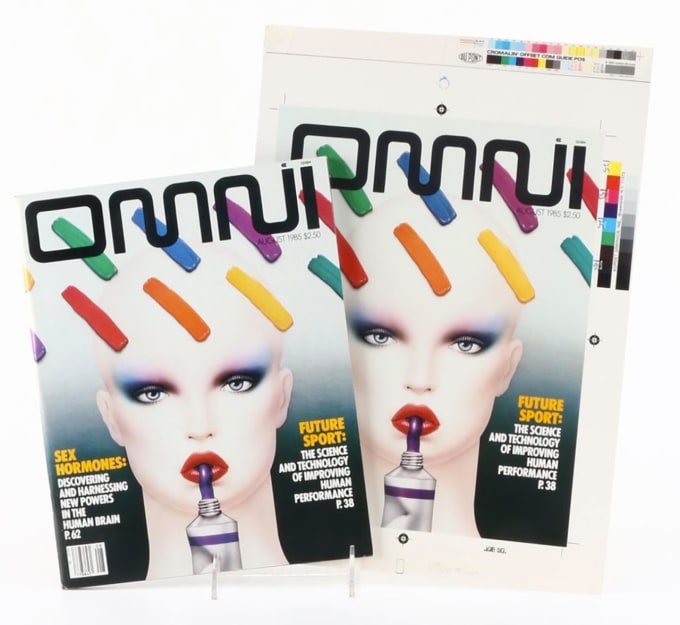 This lot contains an original cover proof of August 1985 with the corresponding finished commercial magazine. This image is contained in a plastic sleeve and features handwritten editor notes around the cover image.
Framed OMNI Magazine Photo Proof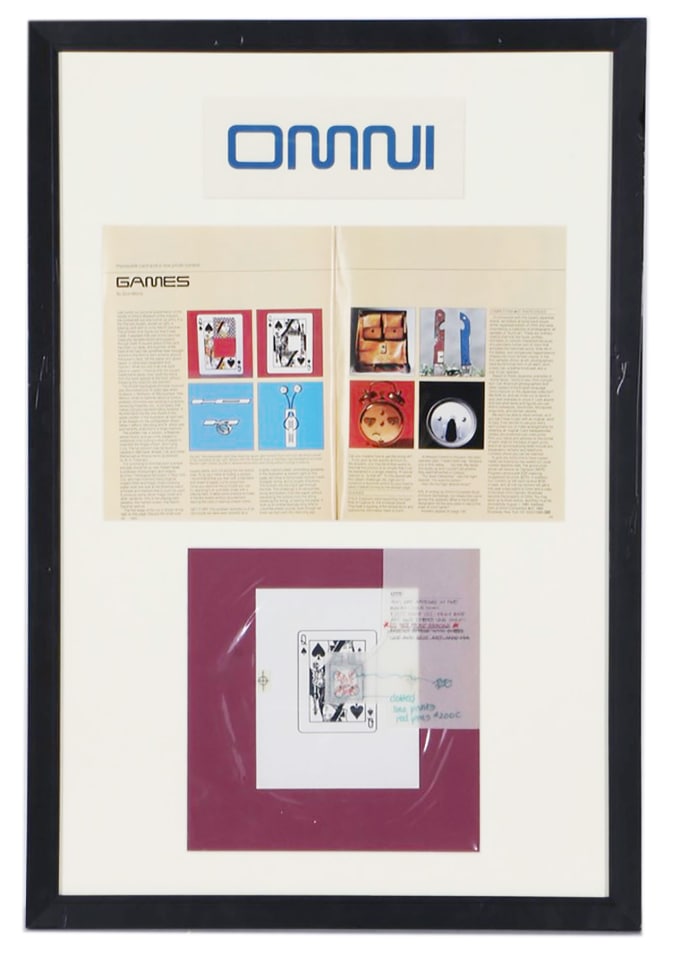 This framed photo proof is from a OMNI magazine article that was later featured in a 'Games' section of the magazine. The artwork displays the Queen of Spades playing card. The proof has original handwritten instructions as to what is to be done in the final magazine and the completed article is in the top panel above the proof. The handwriting indicates the article is from the June 1979 issue. The wooden frame is painted black with white matting and is covered in glass.
Mars Related OMNI Magazine Layout Pages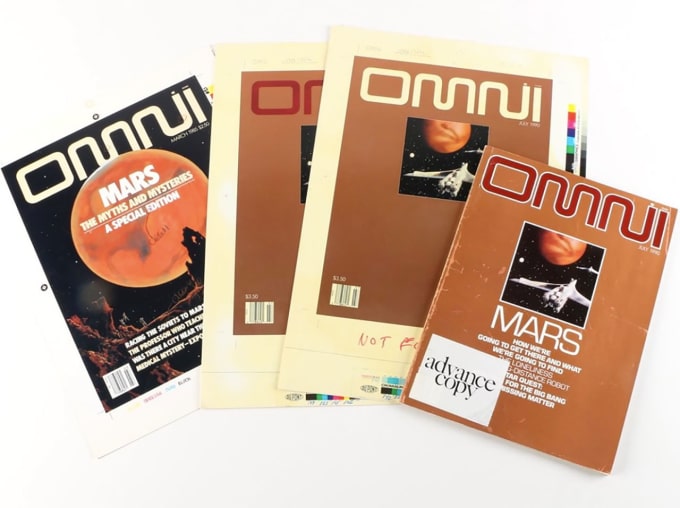 This lot features the Mars issue from July 1990. This set features three cover image proofs with handwritten and computer generated notes in the border areas. The images show alternative options, showing slightly different color variations without text. Included with this set is an 'Advanced Copy' print of the July 1990 issue with two layout page variations. As well, this lot contains the layout page for the March 1985 issue featuring the cover story: 'Mars-The Myths and Mysteries: A Special Edition'. All items in this set are housed in a protective plastic sleeve holder.

Assortment of OMNI Magazine Summer 1981 35mm Slides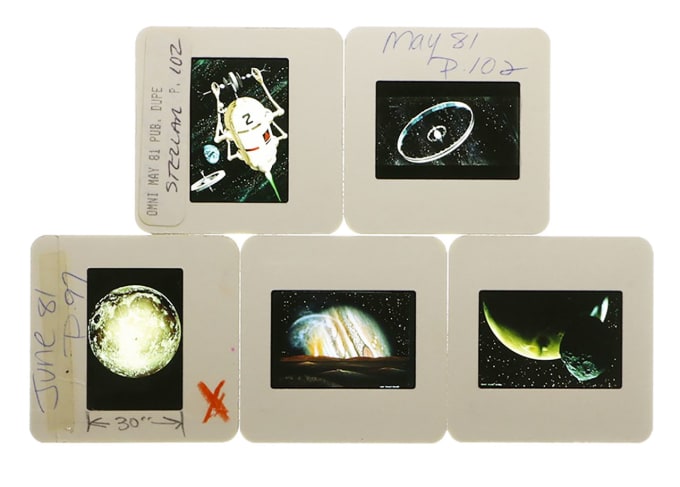 This assortment contains original 35mm slides of images originally prepared for usage in the May and June 1981 issues of OMNI magazine. This assortment contains four photographic slides depicting outer space imagery.