Futurism is powered by Vocal.
Vocal is a platform that provides storytelling tools and engaged communities for writers, musicians, filmmakers, podcasters, and other creators to get discovered and fund their creativity.
How does Vocal work?
Creators share their stories on Vocal's communities. In return, creators earn money when they are tipped and when their stories are read.
How do I join Vocal?
Vocal welcomes creators of all shapes and sizes. Join for free and start creating.
To learn more about Vocal, visit our resources.
Show less
Rey Will Team up with Han Solo & Chewbacca Once Again in the New Star Wars Forces of Destiny Special
These were released on YouTube to popular acclaim, so it comes as no surprise that a second run has now been commissioned.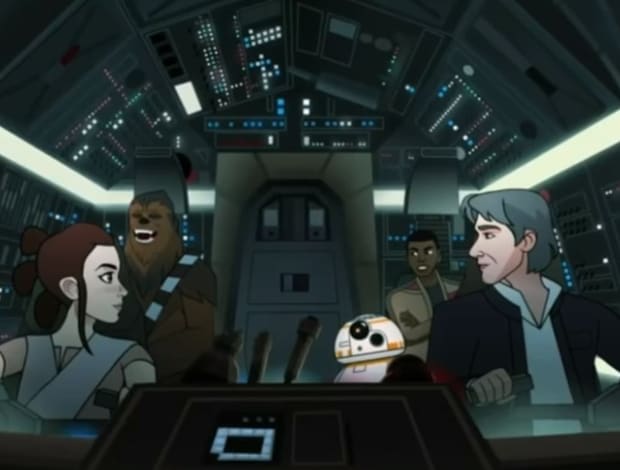 Back in July, Lucasfilm launched a whole new project — Star Wars Forces of Destiny! A unique series of animated short stories, these were released on YouTube to popular acclaim, so it comes as no surprise that a second run has now been commissioned too. Now, in a delightful trailer, Lucasfilm has revealed that this series will premiere on the Disney channel on October 1st. And it's going to feature some changes...
(Editor's Note: The trailer for Phase 2 has been temporarily removed by Disney. While we wait for it to return, check out the clip below for a refresher course on Phase 1):
Attentive viewers will recognize some scenes from the episodes that have already been released online, but clearly, some brand new sequences have been included too. Excitingly, they include an episode clearly set during The Force Awakens, which teams Rey up once again with Han Solo and Chewbacca. The short clips from that episode are absolutely delightful, and promise to fix a subtle continuity issue in The Force Awakens, helping us see Rey grow in her ability to pilot the Falcon.
The first series of animated shorts may have only depicted small moments, including a number of minor scenes set during The Force Awakens, but they also served a crucial purpose, showing characters from different branches of the franchise interacting with one another. Two saw Ahsoka and Padme working together, while another enjoyable short saw Leia interact with Sabine.
These new episodes seem to have a slightly different focus though. Where the first batch tended to center in on the franchise's female characters in isolation, these seem to emphasize teamwork. This time round, it looks as though we're going to see how the women of Star Wars interact with the male characters, a prospect that's sure to make any fan grin. Star Wars has always had a tradition of putting the female characters front-and-center, even placing them in charge, so the interplay between the characters should be fun to see.

The first batch of Star Wars Forces of Destiny animations were tremendous, adding another layer of entertainment to our beloved Galaxy Far, Far Away. This second phase should continue the trend, and is sure to include moments that will leave fans all over the Galaxy cheering. Hopefully, we won't have long to wait until phase three...