Futurism is powered by Vocal creators. You support
Kelly Hawks
by reading, sharing and tipping stories...
more
Futurism is powered by Vocal.
Vocal is a platform that provides storytelling tools and engaged communities for writers, musicians, filmmakers, podcasters, and other creators to get discovered and fund their creativity.
How does Vocal work?
Creators share their stories on Vocal's communities. In return, creators earn money when they are tipped and when their stories are read.
How do I join Vocal?
Vocal welcomes creators of all shapes and sizes. Join for free and start creating.
To learn more about Vocal, visit our resources.
Show less
Top 4 of the Best Star Wars Parodies
To hell with light speed, we're shooting for ludicrous speed...
Star Wars is perhaps the most recognized and best loved science fiction film series of all time. How could it not be, it's the most epic and genre influencing franchise ever created. Because of its success and enormous popularity, Star Wars has become one of the most referenced film series in existence.
Not only is Star Wars referenced repeatedly in films and television, it's been the subject of many imitations and parodies which lovingly poke fun. Here are some of the best Star Wars parodies that even George Lucas finds amusing.
Bad Lip Reading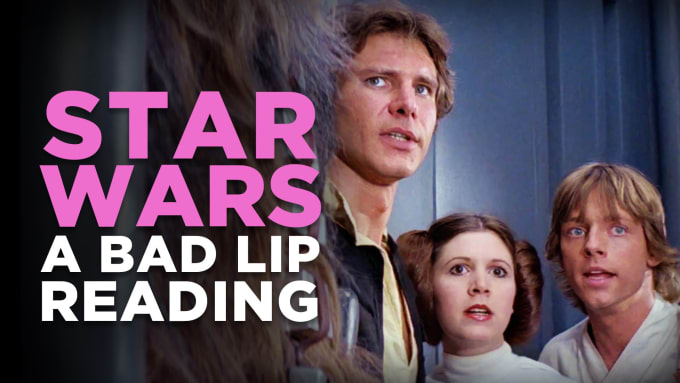 Once upon a time, in a super rad corner of outer space... Bad Lip Reading, also known as BLR, is a YouTube channel run by an anonymous individual in the music production business who is a freakin' mastermind at dubbing movies, TV, political matters and more. If you've never had the pleasure of viewing any of these masterpieces, you must... right NOW. As of late, BLR has amassed over 6.25 million subscribers and over 850 million views across its collection of videos.
Bad Lip Reading has short videos parodying Episode IV: A New Hope, The Empire Strikes Back, Return of the Jedi and most recently The Force Awakens. Each includes a special music video - so if you want to watch Yoda sing a song about Seagulls, you're in for a treat. And believe me, you'll want to watch it. It's very entertaining!
The voice-overs are timed perfectly, the dialog and music are amazing and some voice-over actors are immediately recognizable, like Jack Black, Maya Rudolph and Bill Hader. Best of all, in The Force Awakens, they get a little voice acting help from Luke, himself. Yes, Mark Hamill is featured as the voice of Han Solo. Doesn't get any better than that!
Spaceballs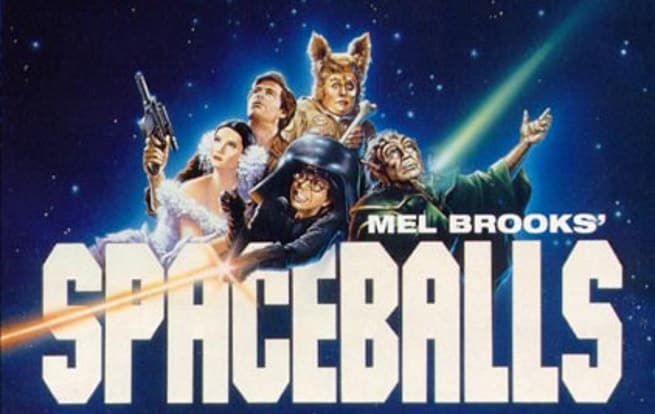 Spaceballs is a genius cult classic parody of the Star Wars trilogy, co-written, produced and directed by Mel Brooks. Right away, knowing that it's a Mel Brooks movie, you know it's going to be pretty goddamn funny. 
Although it tells a somewhat different story, Brooks developed the parody to be as close to the original Star Wars films as possible. With his all-star cast of characters, you can definitely see the comedic similarities. 
Lone Starr, a Han Solo type character and his mog (half man-half dog), Barf, are recruited to save the Druish Princess Vespa from the evil Dark Helmet. The cast is complete with comedy icons including Joan Rivers, Dick Van Patten, John Candy, Rick Moranis and Brooks himself as both the Evil President Skroob and Yogurt, Lone Starr's spiritual guide to the ways of the Schwartz.
You know you've done a good job when George Lucas sends you a note saying that he loved your movie so much, he was afraid he would bust something from laughing so hard. I guess the schwartz was strong in that one.
Robot Chicken: Star Wars - Episodes I, II and III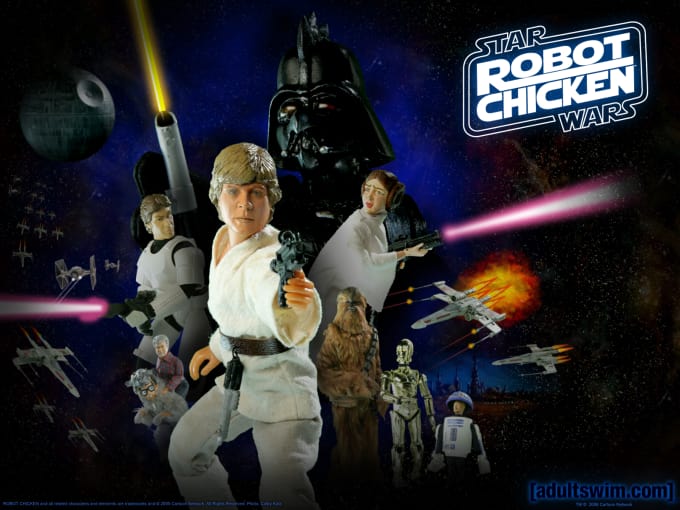 If you watch Adult Swim, you're surely familiar with Robot Chicken. Created by actor Seth Green (who voices Chris on Family Guy) and Matthew Senreich, this is a show that parodies all of pop-culture using stop-motion animation of toys, action figures and dolls. If you're a fan of 1980s action figures like He-Man, G.I. Joe, Thundercats, Strawberry Shortcake etc., you are in for one hell of a pants-pissing treat. 

George Lucas, impressed by the show, approached Green and Senreich with the idea of partnering up to make a 30 minute Star Wars special. As of today, three full episodes have been released. Lucas liked the fact that while the show is parodying Star Wars, it's done tastefully out of love for the series, and not to bash it, or him. The episodes are full of voice talent, including the original stars from the movies, Mark Hamill, Carrie Fisher, Billy Dee Williams and, of course, George Lucas.
Robot Chicken parodies Star Wars, and other shows, in a different fashion than most others. Instead of a comedic re-telling of the story, we get short animated skits of different character situations and a view of their world from different perspectives. This is what makes Robot Chicken so amazingly funny and unique. There's a different side to every character's story. Take your thoughts a little further and outside of the box. I mean, haven't you ever wondered how Darth Vader goes to the bathroom? What was really going through Luke's mind when he refused to join the dark side? Was he imagining what a father/son relationship with Darth Vader would be like, complete with fishing, learning to ride a bike, Vader teaching Luke how to shave, and a father/son break dance contest against Jango and Boba Fett? You'd have to be dead inside to not find this funny!

Family Guy - Laugh It Up Fuzzball
What do you get when the power goes out in Quahog, Rhode Island? A really awesome re-telling of the Star Wars series through the eyes of Peter Griffin. Family Guy came out with a trilogy of Star Wars parodies, Blue Harvest; Something, Something, Something Dark Side; and It's a Trap!
Without a doubt, these are some of the best Family Guy episodes EVER. This trilogy is a tribute to the Star Wars series with a twist of that Family Guy humor. The character assignment is perfect: Peter as Han Solo, Lois as Princess Leia, Chris as Luke, Herbert as Obi-Wan, Brian as Chewbacca and of course, Stewie as Darth Vader. How perfect is that? The rest of the characters seem to fit their counterparts so well, I couldn't imagine them being cast as anyone else. Oh, I can't forget Meg, who plays the Dianoga, the Exogorth and the Sarlacc - all the nasty wormy type monsters. Wait, never mind... nobody cares about Meg.
The edgy humor and one-liners are what makes each episode golden from start to finish. Original movie flaws or holes are hilariously pointed out by the characters, such as the bar scene, with the guy who claims he doesn't like Luke (Chris), and Luke points out that they've never met before. So, in other words, how would he know? 
Again, as with them all, the episodes pay an homage to the Star Wars series and are definitely not a comedic attack. It's pretty obvious that Seth MacFarlane and the show's writers are big, die-hard fans. On the other end, George Lucas happens to be a die-hard Family Guy fan and admits to having watched every single episode of the show TiVo'ed at his home. When Family Guy's first Star Wars episode, Blue Harvest, aired, George invited the show's team up to Skywalker Ranch to watch it with him and his son. So, I guess you could say it was a match made in Heaven and nothing short of TV gold. Thank goodness for that.