Futurism is powered by Vocal creators. You support
Amanda Rose
by reading, sharing and tipping stories...
more
Futurism is powered by Vocal.
Vocal is a platform that provides storytelling tools and engaged communities for writers, musicians, filmmakers, podcasters, and other creators to get discovered and fund their creativity.
How does Vocal work?
Creators share their stories on Vocal's communities. In return, creators earn money when they are tipped and when their stories are read.
How do I join Vocal?
Vocal welcomes creators of all shapes and sizes. Join for free and start creating.
To learn more about Vocal, visit our resources.
Show less
New Space Opera on Audible
The Entertainment We've Been Waiting for!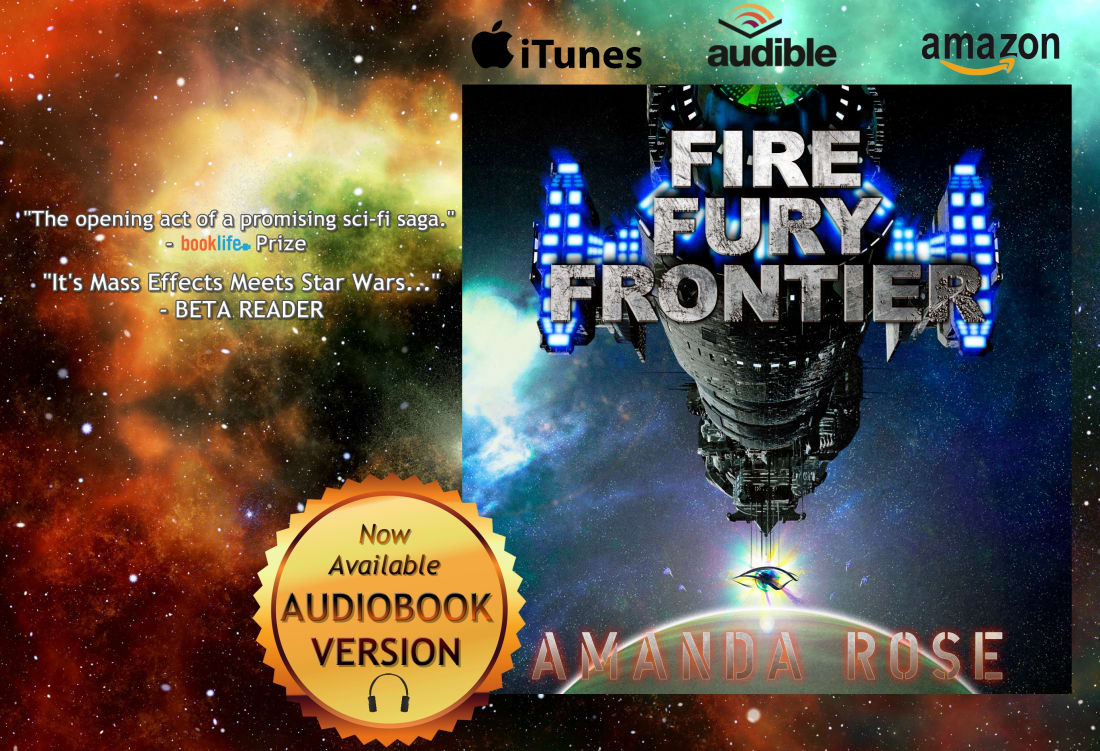 This week the long anticipated Fire Fury Frontier hit Audible. With barely over 1,000 space operas available in audible's library, for sci-fi fans this is a huge win.
The Fire Fury Saga has been receiving high praise, and bringing it out as an audiobook has increased accessibility for those without the time to sit down and read.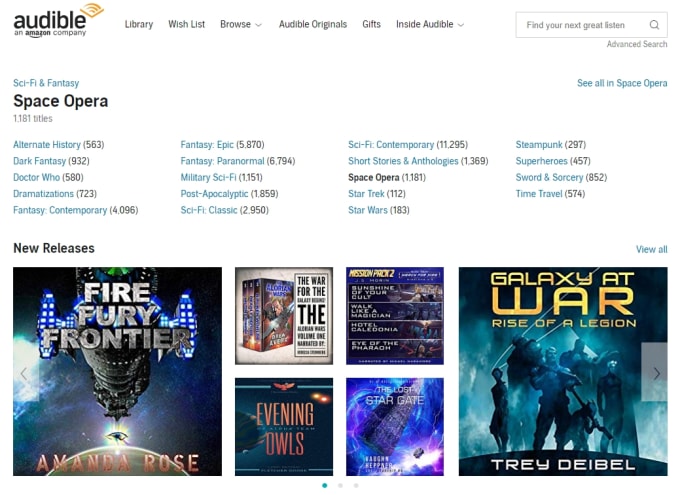 In less than 24 hours the first review popped up, and it was glowing:
The Best Epic Sci-Fi in Years!

"This story grabbed me right away. it's incredibly in-depth and compelling and dives into action very quickly.
PLOT (Minor spoilers)
We follow a lot of different characters throughout. This takes place after the human race has fled to space to survive. The water supply is dwindling and that's one of the first issues the book focuses on. Then we see that there's discord on the ship about the political situation which escalates very quickly into a rebellion.
After quelling the rebellion humanity discovers they aren't alone in the Universe, and that instead there's a diverse galactic community. This leads into a lot of discovery for the crew where the author has developed an incredible Universe.
From there we dive into the main problem which leads to the climax. I won't go into detail, but it's really interesting and I couldn't pull myself away!
OVERALL
The world building was quite in depth without slowing down the pace of the story.
The Omni-character perspective made for a very interesting way to explore the universe that the author created. I particularly liked Hiroshi, Xan, and Raiden.
There are some reminiscent qualities of RPG gaming, particularly some aspects (story or character) reminded me of Mass Effect, Final Fantasy, and Xenogears. The complexity of it all was superb.
I can't wait for book 2 to come out (and fingers crossed this one gets picked up by SyFy or Space TV for a series or movie)!"
This coming right after an incredibly favorable review from the BOOKLIFE PRIZE Critic's Report:
Plot: The plot moves quickly, and the story expands through multiple character perspectives. The first major plot turn, a rebellion on the human ship fleeing the destroyed Earth, is largely dropped when the book reaches its second act—humanity finding an ancient space station that serves as a political and commercial hub for many galactic civilizations. The second half of the book works to establish a broader story universe, which is quite engrossing...

Prose/Style: The writing is succinct and supports the action focus of the story. Descriptions are clear and don't decrease the pace of the plot. The dialogue feels natural, and works to support characterization.

Originality: The novel is clearly inspired by contemporary science fiction; in particular, its setting bears a strong resemblance to the video game series Mass Effect. A number of the characters seem to have names inspired from video games, as well. These resemblances appear to serve as inspiration for the work, rather than derivation, as the characters and plot are original and unique to the novel.

Character Development: The characters are varied and well-defined... Despite a cast pulled from a large population of diverse cultures and civilizations, the characters all generally get along together...

Blurb: The opening act of a promising sci-fi saga.
- BookLife Prize Critic's Report
Get it on Audible.
If you're new to Audible you can listen to Fire Fury Frontier for FREE when you sign up for your 30 day free trial by clicking the link above.
The incredible space opera is of course available on Kindle and in Paperback formats.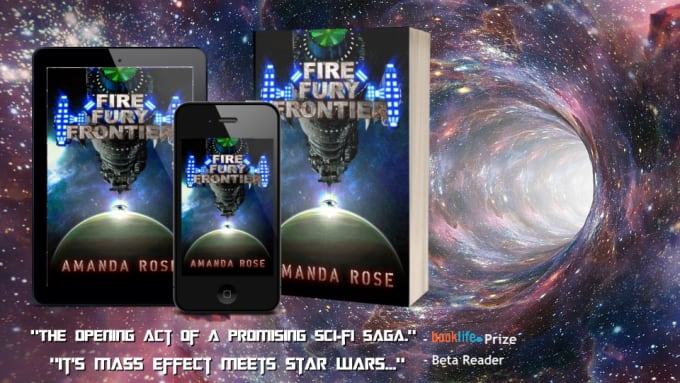 'Fire Fury Saga' Author Interviews on 'Secrets of the Sire Podcast'
Amanda was recently interviewed on Secrets of the Sire Podcast about her Space Opera series after her recent appearance at Toronto Comicon.
*Interview begins at 30:10.
What Canadian Author Amanda Rose Had to Say at the Release
Overcome with joy at the audiobook launch, the young author said:
This is such an absolute dream come true. I couldn't be happier.
This project means so much to me, having begun with Fire Fury Freedom 15 years ago, I feel it's a true part of who I am.
I'm so grateful for all of the support, and huge thank you to my amazing husband Daniel McCutcheon for the countless hours in the recording studio, editing chair, and in creating the astounding artwork... This would never have been possible without him.

Spring Book Signing Tour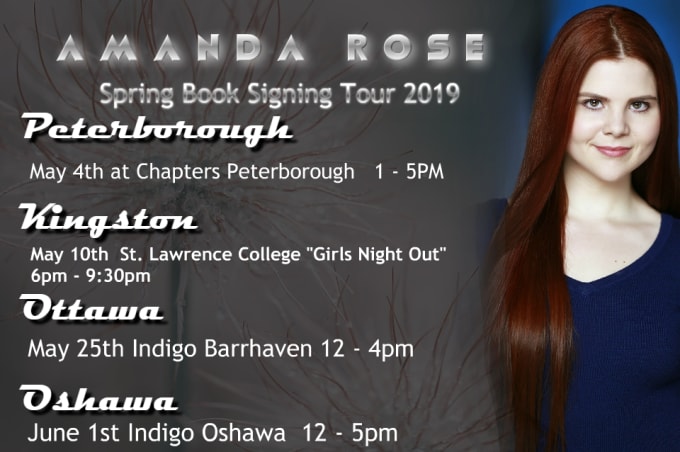 Be sure to save the date as Amanda will be going on Tour starting May 4 as she promotes the saga.
Be sure to follow the Facebook event for updates on the tour.
Follow 'Fire Fury Saga' on Facebook for regular Updates
Learn more about 'Fire Fury Frontier'