The Wookiee Gets Some Nooky: New 'Han Solo' Picture Spoils Chewbacca's Story
Fire up the Falcon, because the Star Wars anthology movies are blasting off with Disney's Han Solo.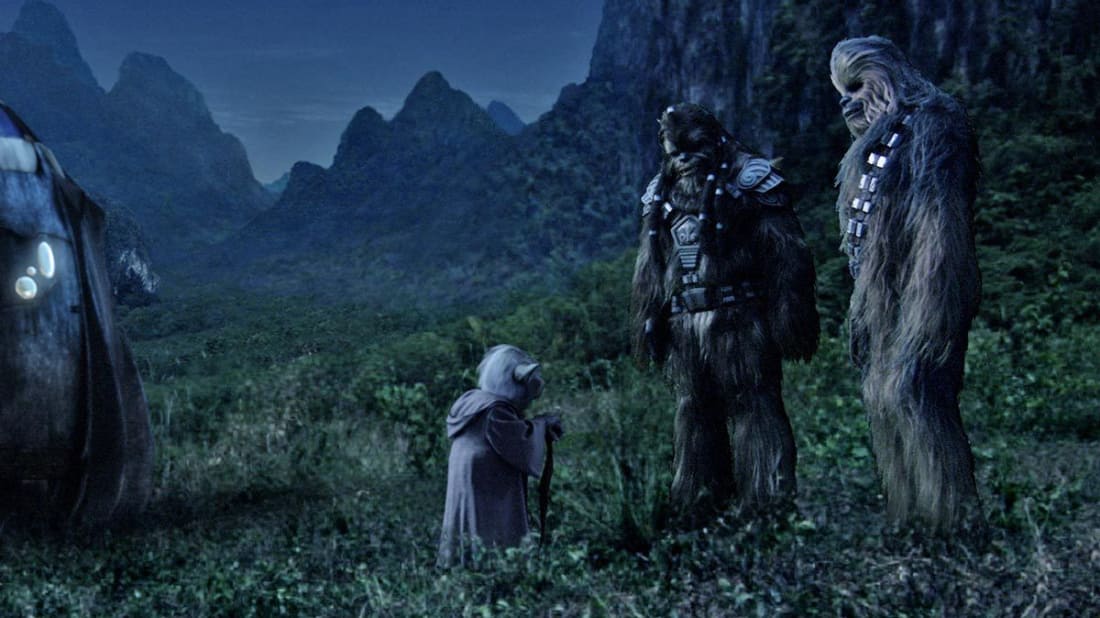 Fire up the Falcon, because the Star Wars anthology movies are blasting off with Disney's Han Solo. While not much is known about where the smuggler's origin story will take us, at least we know that old friend Chewbacca will be on hand to hopefully steer the production to box office success. With #RonHoward taking over the reins of the troubled anthology film, the director clearly has a new vision for his movie, but could he also be bringing back a long-missing character to official #StarWars canon?
You wouldn't think that there would be much to salvage from the abysmal Star Wars Holiday Special, but as the years wear on, is the Star Wars universe slowly mellowing into singing wookiees and an off-key Mark Hamill? It could be, because it now looks like Han Solo is reintroducing Chewbacca's wife, Mallatobuck, just in time for Disney's spin-off.
'Wook' who's talking.
Given Han Solo's recent run of bad luck and departing directors, not to mention zero news from D23, you would expect Howard to be giving us daily updates of "new hope" that everything will be OK — especially considering the film is still aiming for its original release date. This hasn't exactly been the case, but thankfully, the latest image hot off Mustafar depicts fan-favorite #Chewbacca on set. In addition to the caption "Chewie checking the shot," not only does this feature the first official image of a character from the film, it also teases where the plot could be going for our warbling Wookiee:
Bored of showing off his feet, bottled water, or any old nonsense that pops into his head, Howard finally seems to have the hang of social media and this whole fandom thing. Eagle-eyed viewers have also spotted the screen in the background of the shot, which seems to show two wookiees in an embrace. For the entirety of the Star Wars franchise, we have always known the furry Chewbacca as a relatively solitary creature. Despite featuring heavily in the Clone Wars animation, Chewie's role in George Lucas's prequel trilogy was limited to a brief cameo on Kashyyyk in the third film. However, if we are giving our nerf-herding smuggler an origin story, it only makes sense that Chewie gets one too.
However, if you remember, we were nearly here before. George Lucas gave us that maligned Holiday Special back in 1978, which not only had a singing Diahann Carroll and a cartoon Boba Fett, it also gave Chewbacca a family. There was the grandfatherly Itchy, his wife Malla, and of course his son, Lumpy. Given the dire reception of the Holiday Special, it was assumed that the Chewbacca family was stuck in the trash compactor along with the various strands of the Star Wars Expanded Universe. All this could be about to change!
While Howard and Lucasfilm are yet to confirm whether that is even Chewie in the screenshot, if it is, surely that is Mallatobuck by his side. With relationships like the one between Padme and Anakin, or Han and Leia being so important, why shouldn't a character as well-known as Chewbacca get some romance. Wookiees have feelings too, you know! However, if Howard really is making the Holiday Special full canon, that could be a "wookiee" mistake for any director to make.